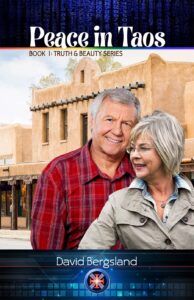 Adding the Creator into your creations has increasingly become the focus of my recent Christian Contemporary Fiction. In fact, in the new Truth & Beauty series, this is the major focus of the book.
What I have been discovering is the immense difference between work done with or without the anointing. One is dead recitation and the other is alive. I see that at church also. Everything that happens comes during the times of anointing. Of course, you cannot predict it. All you can do is recognize it after it happens.
But the good news is that there is a useable procedure which allows and encourages it to happen. But it all begins when we realize how essential it is. 1 John 2:27 And as for you, the anointing which you received from Him remains in you, and you have no need for anyone to teach you; but as His anointing teaches you about all things, and is true and is not a lie, and just as it has taught you, you remain in Him. 
The Holy Spirit been working on me about this for over thirty years, and I'm finally beginning to understand it a little—no that's not true, I'm beginning to recognize it more readily. That's one of the drives to look for the Lord to pick me up. In my perfected body, I'm convinced the anointing will be a conscious thing. We'll be able to see spiritually. What a joy that will be!
I adding a link on the usefulness of witnessing in your fiction
It comes from my Solid Food posts on The Skilled Workman, where I have moved most of my non-fiction. This one is called Witnessing enables the Holy Spirit to add the power. 
Adding the Creator into your creations
That's where I got the idea for this page. It's from book 2, Truth & Beauty Village
You want to share, Helaena?"

"Of course I do, I live to share like this." That drew chuckles throughout the group in all locations. "Like Sahkyo, this need for holiness to receive the anointing has consumed me. It works for writers and narrators also. So, when we gather with the week's raw footage, all three of us pray for that anointing.

"The result is that the Lord guides us to the story to share. You know how that works. You're just doing your thing, and it feels you are doing it, but the output is definitely beyond your capability. Flavio and Ajei says that's how it works with their woodcarving also. Our plan is to do creation videos with them also—as soon as we can free up enough time.

"Now this embarrasses me badly, but the Lord just told me to say that what you see as me being more enjoyable and entertaining while we do this meeting is part of my creative anointing. It's my creative gift just like Sahkyo's designing skills, the Lujans' carving skills, and the fine art skills of Daniel, William, and Chooli.

"It's all the same anointing. It is what we offer with Truth & Beauty. I assume that's true of Nizhóní Artwork, also. That's what you are praying for when you ask the Lord to sent us more help." She was horribly embarrassed when the entire group online burst into applause.

Jasmin spoke up. "We're sorry to embarrass you, Helaena. But the Lord just powerfully anointed your short presentation. It made the whole process much more clear to me, and I assume the rest of us outside of Taos. Also, I believe the Lord has just shown us a clarification of Karen's prophecy about our video work. It's all about the anointing. I feel so stupid seeing that as a major revelation."