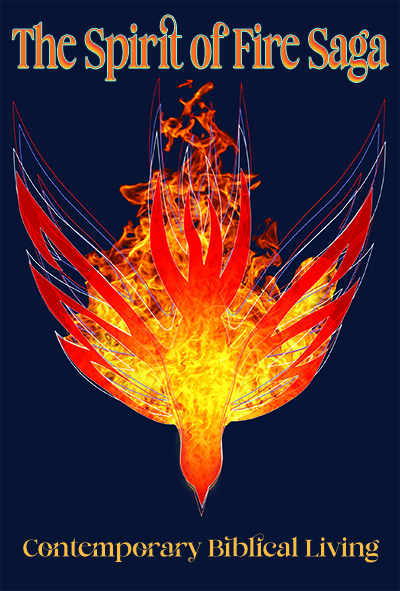 As the twenty twenties have arrived, my major effort has become writing power-filled contemporary Biblical living. My focus is on realistic living in fictionalized settings. The Spirit of Fire Saga begins with the Ascended Light series of four novels. The Truth & Beauty series of three novels follows. The Stillwater Mission Series comes next. Hagiai Gem Hunters came during the Stillwater Mission. The Northfield Development bumps it up another level.
I wanted to put The Spirit of Fire Saga poster up here because to me it represents my general attitude behind all fourteen of the recent novels. I am sharing how to walk in the power of the Holy Spirit in normal daily living. The Lord has taken me on a wonderful ride. It will be fifty years on January 15, 2024.
Sad to say, even most Christians do not have any idea how far the Lord will go to bless you or how to access that blessing. He's loving, funny, kind, generous, always trustworthy, and I could go on for paragraphs. It's a wonderful life, walking with the Lord by His Spirit within us. Paul called it the great mystery, that which was barely hinted in the Old Testament, The Messiah in us, the hope of glory.
It grieves me to see how denominational leadership blocks this, in many cases. It's commonly called the heresy of Experiential Christianity. But the Truth is that this is what Jesus prayed for in His priestly prayer of John seventeen—that we would be one with Him the same way He is one with the Father. If you haven't experienced it yet, ask Jesus to show you the truth of all of this. The Holy Spirit is in us to teach us how to do this. We all have our own walk of faith, but the Holy Spirit is in us to guide us into it.
David Bergsland writes fiction
Universal links for these books
The Fiery Spirit — it seems like another gallery tale, but this time it's about a new type of school
Redwing Re•Creation — the Messiah begins his radical rebirths in St. Olaf and Northfield, with His radical new school
Haugean Insurgence — the Lord begins his correction of the Norwegian Lutherans by bringing back radical rebirth
The Reality of Truth — Now, everyone is forced to deal with the fact that Jesus has just started his work in Northfield and St. Olaf.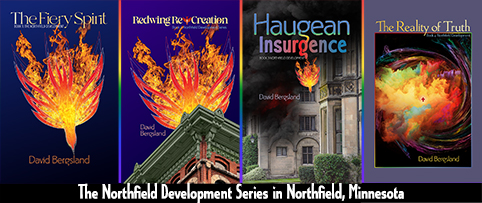 This new series is a sharp departure from the earlier works in this epic tale. This time the Lord is planning to change things religiously, educationally, and even politically. He's making waves on behalf of the descendants of some of his children who were treated badly a century or two ago.
It starts with a new gallery. But this gallery is much smaller because Northfield was built around two world-class colleges, not business. It is very prosperous, but controlled by academic needs. Downtown Northfield is a small worldly delight of beautiful old buildings in a nicely developed area next to the Cannon River. But it's missing something essential at its core.
Of course, it's still a power-filled contemporary Biblical living tale taking place in the near future. But this time the Lord is shaking up the whole city. He's not pleased with the religious life of many of Norwegian Lutherans, and their synods. He was serious when he said you can't even see the Kingdom of God unless you're born again. The Lutheran religion has judged that to be the experiential Christianity heresy. The Lord sees it as a real problem.
Universal links for these books
Chozen Frozen — the Messiah begins by calling a widow in the Episcopal church
Stillwater Battle — the Messiah uses the rage of the enemy to build up his new fortress
Spirit of Fire — the Messiah expands Chozen Frozen's influence to Red Wing, Minnesota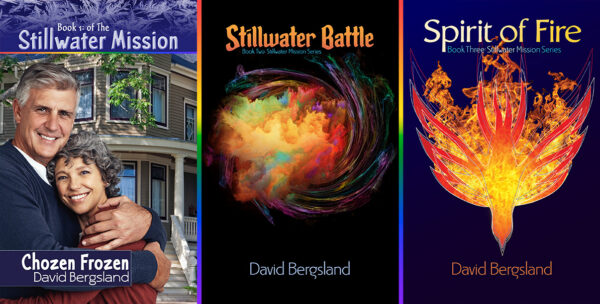 Chozen Frozen is contemporary living, using married couples put together by the Lord—often very quickly—to accomplish a work of the Lord that the church considers fantastic—that is, a power-filled contemporary Biblical romantic tale taking place in the near future. Many of these marriages are between two badly damaged artists who need the support of a strong marriage to do what they do. So, the Lord introduces them and then very quickly tells each of them that they were designed for each other. Then, with their horrendous back-grounds, they get married [with strong intense mentoring in Biblical marriage] in a matter of a couple weeks—to avoid falling into sin via the temptations of the flesh.
But it's all about the work that Jesus wants to be done.
The Lord Jesus has created a fortress of spiritual power in the middle of a beautiful small city which the enemy thinks is securely in his hands. The enemy strategy is a common one in modern America—keep'em comfortable. In the middle of deep darkness like this, the glory of the Lord's creativity cannot not be contained or thwarted. It will break through—if He finds people open to the possibilities, who simply follow His lead in faith. His colorful life comes with it.
The second series: Truth & Beauty Series brings a strong fortress of the Kingdom of God into Taos, New Mexico
Universal links for these books
Peace in Taos — the Messiah calls a woodworker in his seventies, and gives him a new wife, to build this fortress
Truth & Beauty Village — the Messiah wants a new secure village to support the effort
Truth & Beauty's Anointed Living — but His plan includes offering His life in the Kingdom to any believer, by manufacturing furniture?
It all seems quite innocuous. After all, they discovered with the gallery on Canyon Road how to do this. But the Ascended Light organization never counted on Hans and Mildred Gunnarson in this power-filled contemporary Biblical romance. This widowed couple was put together by the Lord to bring change to Ascended Light. The widowed woodworker, now radically reborn, is put together with the widowed best friend of his first wife. Hans and his father made a killing in real estate in Taos, in the 1980s and '90s. He'd promised his wife, on her death bed, that he'd build her that place for Jesus on Taos Plaza. Now he finally knew what to do with his fortune. Will all of Taos be radically changed? They learn it's all about adding the anointing to daily living. Simple stuff.
The Kingdom invades Taos
This new series takes the powerful organization of Ascended Light and turns it toward a larger presence in the world. What would happen if the Lord tarried? Ascended Light Design, Servants of Jíísas, and Nizhóní Artwork would continue to grow.
Daniel and Karen Windrush are uneasy. They sense change is coming, and when it does their world will be radically changed. It's as if they are Cinderella and the fairy godfather arrives. Yet this new man in their lives begins his entry with birth from above into the Kingdom of the Messiah.
The story of Hans and Mildred Gunnarson is old yet radically new. The Lord has big things for them to do—beyond their wildest imaginations. But then, walking in newness of life is always the story of a move from the World to the Kingdom. The strait and narrow path leads to adventure and not many choose to take that journey.
The Taoseños in this small town of Taos in northern New Mexico have no idea what is coming—though the enemy is near panic. The Kingdom brings Peace through Truth & Beauty. That's a lot to handle—even for the people called to the work. But as usual, step by step, line upon line, precept upon precept, His plan unfolds. The Creator has things for them to do. At times the joy flips them over into worship, but He is worthy of that—as you know. Join the adventure!
Universal links for these books
Peace in Chaos — the Messiah's new work begins with a graphic design freshman in college
Peace on the Res — The evil has spread to the Navajo Nation. The Messiah calls young Diné warrior
Peace in Santa Fe — Here the Messiah calls a young pansexual artist to thwart the evil
War on Canyon Road — The enemy fights back in rage >chortle<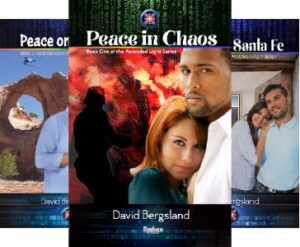 The Ascended Light Christian Paranormal Series brings serious spiritual warfare to the final harvest in the context of power-filled contemporary Biblical romance. There's a touch of thriller here. It's a very simple premise. Write fiction which shows how serious believers actually live. Not what the haters and bad press want you to believe they are like, but how they really are day to day. Miraculous events are not uncommon in my life. How about yours? In the lives of the characters of these books, they might inspire you. It's actually quite simple to live this way. All you have to do is seriously repent of all your sin, ask Jesus to forgive you, and then ask Him to come live in you—of course there is that little part about doing what he asks you to do.
But you'll be amazed at what joy that brings into your life, what satisfaction, what power. Jesus really wants to come close to you, talk with you, answer your questions, help you in your trials. He loves you. These characters simply believe and follow into great events, major companies, large ministries, incredible spouses, and the list goes on. Christian living is truly miraculous reality. Oh, I forgot to mention, complete victory over Satan and his minions. YeeHaw!
Hagiai Gem Hunters is a resource developed by the Lord to help his efforts in New Mexico & Minnesota.
Touches of Beauty is a stand alone novel so far, and it may remain that way.
Universal links for this book
Hagiai Gem Hunters: Touches of Beauty — The Lord puts a group of silversmiths together to provide an anointed view of His pretty rocks, that He left for our enjoyment
Some good news to counter the bad news
A group of believing silversmiths and stone cutters, who are focused on sharing the touches of beauty which the Lord has left scattered around His creation for our enjoyment, begins their work.
Jason is an abject failure. When his wife died suddenly, without warning, he fell apart. But as the owner of a jewelry store in Albuquerque, he had people dependent upon him, and he had failed them badly. He was going bankrupt, but worse he was having thoughts of suicide.
The Lord saw His opportunity to get Jason to make the necessary decisions, and the depressed widower is transformed—but it takes a while. However, it is remarkable what happens when a new believer is introduced to Truth—the conversational presence of Jesus in his or her life (plus, a Holy Spirit-sent mentor). Jason soon realizes that radical changes are needed, and by the grace of God, he makes them.
But he needs help. The Lord's solution is his normal first option—a spouse designed to meet his need, while he is designed to meet hers. He didn't expect her to fall out of the sky, but it was wonderful. From that beginning, the Lord assembles a strong working group building it with truly messed up people. But they all fit well into His plan. And the work grows.
–––—————•••••<<<

†

>>>•••••—————–––
Pre-Spirit of Fire fiction
Book 1, Staff of Light: An otherworldly, gritty heroic fantasy dealing with truth & spiritual warfare
The life of Joen Bjarn'son had brought him to the point of unquenchable rage. He had withdrawn almost entirely within himself. Then he does something very stupid. He lashes out at the man responsible.
But Heglin Roark, Primate of the Ansélan Church for the Kingdom of Ferrelär strikes back with a vengeance. His plans to deal with Joen's kind are basically genocidal.
The Primate believes in the power of the church and its liturgy. The Known talk with the Lord directly, and he cannot control them. There are some personal things going on also, but the result is he's increasingly using the Known as scapegoats. Joen's campaign against him results in him moving his private war out into the open
Joen's devastated by his guilt, insignificance, and isolation. He doesn't Know the Lord. Yet Lord Ansél has plans for him beyond his wildest imagination.
Far off in the king's palace, Princess Raqhel lies in her suite of luxury terrified by her brother's physical advances. What was to become of her? What should she do?
Though these are an excellent tale, they suffer from being outside actual history. Released during the early Trump years, they are now merely an entertaining alternative history.
From Book 1: From New Mexico, the land of enchantment, and its history of mighty men, a modern tale of conflict develops.
Deborah "Stones" Jackson at the ripe, old age of 31 had thought she was done with the covert life. The gut shot during the op in Eastern Afghanistan, compounded by the care of the Jalalabad hospital, had nearly killed her. Ralph, her boss at Black Sail in Maryland, had finally gotten her to Germany for emergency care. Then he sent her back to New Mexico to recover. She wasn't sure she'd be going back.
But a calling rarely lets up, and Stones was meant for combat. The new foe was devious, coming up from Chihuahua, with support in surprising places. She'd never been faced with traitorous Americans, amazing wealth, and the sheer nastiness of an oppressed people demanding freedom.
Cut off from the East with no resources, Deborah discovers that God has a plan for her which she never could have dreamed—far beyond her wildest imaginations. She'd have to deal with her mother, who was a legendary assassin?!