It has dawned on me that some of you may not know David Bergsland writes fiction in addition to his popular technical book production and font design books and the not so popular Biblical non-fiction. Book One of his epic fantasy was released Easter 2019, book 2 was released in March 2020. His technothriller was released in the spring of 2017. The end-times thriller was released late in 2012. The Ascended Light series of four novels began in the  fall of 2020. The Truth & Beauty series of three novels was all written in the year 2021, finished in August.
David Bergsland writes fiction
Truth & Beauty Series brings a strong fortress of the Kingdom of God into Taos, New Mexico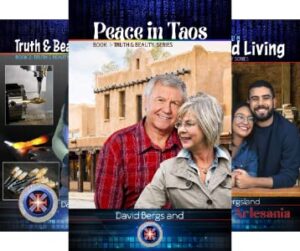 It all seems quite innocuous. After all, they discovered with the gallery on Canyon Road how to do this. But the Ascended Light organization never counted on Hans and Mildred Gunnarson. This widowed couple was put together by the Lord to bring change to Ascended Light. The widowed woodworker, now radically reborn, is put together with the widowed best friend of his first wife. Hans and his father made a killing in real estate in Taos, in the 1980s and '90s. He'd promised his wife, on her death bed, that he'd build her that place for Jesus on Taos Plaza. Now he finally knew what to do with his fortune. Will all of Taos be radically changed? They learn it's all about adding the anointing to daily living. Simple stuff.
The Kingdom invades Taos
This new series takes the powerful of Ascended Light and turns it toward a larger presence in the world. What would happen if the Lord tarried? Ascended Light Design, Servants of Jíísas, and Nizhóní Artwork would continue to grow.
Daniel and Karen Windrush are uneasy. They sense change is coming, and when it does their world will be radically changed. It's as if they are Cinderella and the fairy godfather arrives. Yet this new man in their lives begins his entry with birth from above into the Kingdom of the Messiah.
The story of Hans and Mildred Gunnarson is old yet radically new. The Lord has big things for them to do—beyond their wildest imaginations. But then, walking in newness of life is always the story of a move from the World to the Kingdom. The strait and narrow path leads to adventure and not many choose to take that journey.
The Taoseños in this small town in northern New Mexico have no idea what is coming—though the enemy is near panic. The Kingdom brings Peace through Truth & Beauty. That's a lot to handle—even for the people called to the work. But as usual, step by step, line upon line, precept upon precept, His plan unfolds. The Creator has things for them to do. At times the joy flips them over into worship, but He is worthy of that—as you know. Join the adventure!
The contemporary Ascended Light Series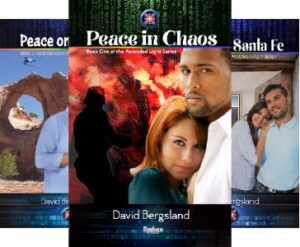 The Ascended Light Christian Paranormal Series brings serious spiritual warfare to the final harvest. It's a very simple premise. Write fiction which shows how serious believers actually live. Not what the haters and bad press want you to believe they are like, but how they really are day to day. Miraculous events are not uncommon in my life. How about yours? In the lives of the characters of these books, they might inspire you. It's actually quite simple to live this way. All you have to do is seriously repent of all your sin, ask Jesus to forgive you, and then ask Him to come live in you—of course there is that little part about doing what he asks you to do.
But you'll be amazed at what joy that brings into your life, what satisfaction, what power. Jesus really wants to come close to you, talk with you, answer your questions, help you in your trials. He loves you. These characters simply believe and follow into great events, major companies, large ministries, incredible spouses, and the list goes on. Christian living is truly miraculous reality. Oh, I forgot to mention, complete victory over Satan and his minions. YeeHaw!
Book 1, Staff of Light: An otherworldly, gritty heroic fantasy dealing with truth & spiritual warfare
The life of Joen Bjarn'son had brought him to the point of unquenchable rage. He had withdrawn almost entirely within himself. Then he does something very stupid. He lashes out at the man responsible.
But Heglin Roark, Primate of the Ansélan Church for the Kingdom of Ferrelär strikes back with a vengeance. His plans to deal with Joen's kind are basically genocidal.
The Primate believes in the power of the church and its liturgy. The Known talk with the Lord directly, and he cannot control them. There are some personal things going on also, but the result is he's increasingly using the Known as scapegoats. Joen's campaign against him results in him moving his private war out into the open
Joen's devastated by his guilt, insignificance, and isolation. He doesn't Know the Lord. Yet Lord Ansél has plans for him beyond his wildest imagination.
Far off in the king's palace, Princess Raqhel lies in her suite of luxury terrified by her brother's physical advances. What was to become of her? What should she do?
Though these are an excellent tale, they suffer from being outside actual history. Written during the early Obama years, they are now merely an entertaining alternative history.
From Book 1: From New Mexico, the land of enchantment, and its history of mighty men, a modern tale of conflict develops.
Deborah "Stones" Jackson at the ripe, old age of 31 had thought she was done with the covert life. The gut shot during the op in Eastern Afghanistan, compounded by the care of the Jalalabad hospital, had nearly killed her. Ralph, her boss at Black Sail in Maryland, had finally gotten her to Germany for emergency care. Then he sent her back to New Mexico to recover. She wasn't sure she'd be going back.
But a calling rarely lets up, and Stones was meant for combat. The new foe was devious, coming up from Chihuahua, with support in surprising places. She'd never been faced with traitorous Americans, amazing wealth, and the sheer nastiness of an oppressed people demanding freedom.
Cut off from the East with no resources, Deborah discovers that God has a plan for her which she never could have dreamed—far beyond her wildest imaginations. She'd have to deal with her mother, who was a legendary assassin?!