Here we give you Vetted Christian Fantasy books with superior world building, spectacular characters, races, and civilizations. Our imaginations are flooded with Truth from a different direction which often enables us to see it anew. The only other escape from reality which comes close is science fiction.
Vetted Christian Fantasy books flood our imaginations with Truth seen uniquely
•••••••SERIES FIRST, THEN SINGLE BOOKS
The Reign Series By Jeffrey McClain Jones
This offers speculative refreshment in a world gone mad. As we bring the end of the church age to a close, a simple breath of fresh air seems like a life raft on a stormy sea. Here's a series which offers this, and hope, at this point in the birth pangs.
Here we see modern Christian Urban Fantasy in power
WHAT WILL LIFE BE LIKE IN THE MILLENNIUM? This is not a theological, doctrinal masterwork. Jeffrey McClain Jones has carved out a marvelous place in speculative fiction. You know my take on writing the reality of Christian living as fantasy. I believe it is fantasy for almost everyone these days—even for the majority of Christians.
The Reign Series take speculation into the future: Here is a wonderful series of tales with compelling characters, a believable world-build, and spiritual capabilities beyond our fondest dreams [unless you're crazy, like me]. Telepathy, telekinesis, teleportation, flight, superhuman strength, and more are believable portions of mankind's experience in this speculative look at the Millennium.
Out of Tribulation • On Earth as in Heaven • Eden Restored • War to end Wars
•••••••
The Kinsman's Tree series by Timothy Michael Hurst
The Kinsman's Tree, The Æglet's Answer, Key to the Captive's Heart, and The Fowler's Arrow by Timothy Michael Hurst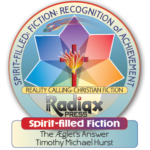 This gives us a potentially great writer and his first books. The links in the headlines go to David's reviews. The Kinsman's Tree builds the world and what a marvelous world it is. It remains a pre-savior vision, though. But it is still free.
Peter and I are both blown away by The Æglet's Answer. It is rare that a second book fulfills the potential of the first, and Tim surely does that with these books. Here's a quote from Peter's review:
I have not read a novel that is so infused with the Spirit of God, not only from the Spirit's inspiration to the author but also in the novel itself, as a character! But not as a physical character but as He is in reality and as we know and experience Him, as a Spirit. He talks to the main characters, with words of instruction, encouragement, guidance and even firmness bordering on discipline, He acts in their lives supernaturally with signs and wonders. In other such novels, the Spirit's presence may be only a few times, but in this novel, it is very frequent. And it is such a joy to behold and to read. I found this to be very uplifting and satisfying.
Books 3 & 4 build on the well-established world Tim has built.
The Kinsman's Tree • The Æglet's Answer • Key to the Captive's Heart • The Fowler's Arrow
•••••••
No, I am not going to review my own books. I truly was blessed by writing them. I have no idea what your opinion will be.
The blurb: In the aftermath of Lord of the Rings, released in the 50s and 60s, most fantasy has veered sharply toward the dark side. The Ferellonian King Series brings back some of the wondrous delight of LOTR with a strong movement toward the light. This is a heroic fantasy with heroes and heroines battling evil.  We have heroes and heroines of strong moral character. The evil is depicted honestly and truthfully. We do not leave the good guys, or the readers, without hope.
Ferellonian King Series reveals the fantastic truth to a post-spiritual culture
Welcome to Ferellon! In our society attempting to redefine Truth [as if that were actually possible], spiritual reality has become a fantasy to most under sixty. The younger they are the more likely they are to not believe Truth. But that is the result of its rejection by the boomers and everyone in between. The civilization of Ferellon has much to teach us.
When was the last time a fantasy led you into worship?
Though things seem strange, with different systems of measurement, weight, money, church and so on, you will find things are uniquely real. Magic seems available. But, in reality, these magical tools and powers come from spiritual sources. The spiritually ignorant are sadly powerless—though they seem to be in power. The Ferellonian King Series strips them of their self-centered blindness and hedonism. It's a wild ride.
Staff of Light • Staff of Darkness • Staff of the King
•••••••
Guy Stanton III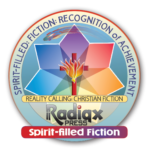 This is my favorite fantasy series so far.
"Our story begins with a boy named Roric. Raised sheltered in the countryside he is ill prepared for the event of watching his family die violently, only to then see his entire world crumble as everything he thought he knew is turned to fantasy and he is forced to find himself chained into the life of a slave. A slave struggling to survive in the gladiatorial arena where every match means death for someone, but he survived and one day he escaped.
A Warrior's Redemption is the tale of one man's journey from being a slave to becoming a warrior, who changes the fate of an entire world. It is a story of intrigue, honor, passion and the hope of redemption that is available to all and not just in fantasy. In the story we follow Roric, as he becomes a man and then a leader and eventually a legend. This book is but the beginning of an epic fantasy saga that spans five books in length. The underlying message of, A Warrior's Redemption, is the story of life that many of us face, but few choose to except."
This was his first series. A review is here. This is epic fantasy on a far planet with much action and spectacular romances.



Amazon Links to individual books:
A Warrior's Redemption • A Warrior's Journey • A Warrior's legacy • A Warrior's Return • A Warrior's Revenge
•••••••
This is an amazing trilogy. David prides himself as a worldbuilder. He is. The complex interactions of the multiple races and the hybrids is wonderful. The story itself is classic epic fantasy of a very high order.
"Welcome to Chadash; where the lives and adventures of mortals are the weapons wielded by angels in a war for the souls of men."
What was to be a simple job for the unlikely team of a teenage thief, a holy warrior, a barbarian prince, a priest and an outcast necromancer soon transforms into a much greater adventure. These mismatched heroes find themselves caught up in a struggle threatening three decades of peace. The fate of nations is inseparably intertwined with the fate of this motley band of adventurers. Yet even greater forces are afoot as unbeknownst to the heroes they are pawns in a celestial struggle between two factions of angels on a new world the One Lord has created at the end of the universe. Come along to the world of Chadash where angels struggle for the souls of men"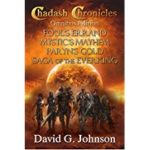 Amazon Links: Saga of the Everking • Fool's Errand • Mystic's Mayhem • Paryn's Gold
•••••••
This is one of my favorite Christian fantasy trilogies. It took a while to get into it, but then it is really fun. Here's the review.
"In the far north of Altesse, amid giants' ruins and simmering volcanos, a shadow lies over the imperiled kingdom of Astarkand.
Carrying ancient relics, a blue-cloaked dragon knight has arrived in Hearthing. The minstrels give him a bigger swagger than he knows he deserves. The crown prince is furiously jealous of his fame and respect. The king secretly plots to bring him down while welcoming him at court. Does the dragon knight, Bjorn Horsa have what it takes to outwit the king, or did he just get lucky with the dragon?"
Amazon Individual Links [print & Kindle versions]: Shadow on the Land • King's Ride • Eiathan's Heir
•••••••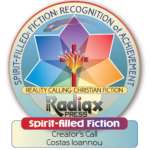 The tale is complex with many twists and turns. I mean, I've read many thousands of books. So, surprises for me are where something I've seen before pops up in a place where I didn't expect it. Yet, the book won me over. This is fantasy touched with truth.
The Creator works in ways I understood from my real-life experiences. For a first book, Costas wrote a strong work under incredible trials.
I'm expecting more and better books from Costas. The first one is always rough
This battle comes on the teenage boy and girl without warning. Edward has no belief worth mentioning, yet he's in the fight. He's completely taken by surprise when his entire life is upended a few hours. June's upheaval happened before the book began, but it's an even more radical thrashing of her spiritual underpinnings.
Evil men try to capture them. Men who can move with supernatural speed and power. Then one of the worst of them reappears a totally changed man. He sends them on their way south through the forest. In there, they are attacked by another possessed man, with two underlings. Both young protagonists are in a turmoil, as you can imagine.
She's been raised by her grandmother, after her parents were killed, constantly praying that the Creator would send the promised Deliverer, the Coming King. Through a strong burst of nasty demonic attacks, she and Edward are delivered by a man who knows how to pray. Then, she learned that the Deliverer came and was killed. Crushed by horror,  she's told the Deliverer rose from death, rising to the Creator, and now sending the Spirit of the Creator to live in people who surrender their life to Him.
•••••••
This is an exceptional epic fantasy with unique races, wonderful characters, and a compelling storyline. Here's the review of book 3.
Half-Blood is a novella [prequel] about Jayce, the hero.



Amazon Links: Resistance • Half-Blood • The King's Scrolls • Samara's Peril
•••••••
This is not a story about a beautiful, shrieking, young bimbo looking for adventure out of boredom. It's about a young woman oppressed by evil in the beginning and compelled to find the Truth. When she finds it, her life is transformed; and, she does marvelous things as she is thrust into adventure. Here's the review.
Just between you and me, this is not nearly as polished as Ilyon. But, [shhh] I like it better.
Amazon Links: Truth • Courage • Trust
•••••••The Single books
The Witch and The Wise Men by Bryan M. Powell
This one was reviewed by Peter who told me, "He has done a great job. Be prepared to create another for the sequel if it is anything like this one. He has not held anything back. Great to see the Gospel presented to non-believers but also to a Jewish couple and this is done really well." Kindle, Audio, & Print Versions
The blurb: "The Witch and the Wise Men
An ancient medallion is discovered,
An evil spirit is awakened,
A witch's curse is broken …
And the wise men of Bethlehem are called upon to face the ultimate evil.
When Mrs. White and her daughter, Abby, moved to North Hampton, a quiet town tucked away in the north Georgia mountains, little did the community suspect her real intentions. Then things began to happen … unexplainable things … dark things.
Sitting at a table illuminated by a single candle, Mrs. White, who calls herself the White Witch, reads the inscription on an ancient medallion. Halfway around the world, a spirit awakens.
It had been summoned.
Thirsty for blood, it possesses the White Witch and makes its demands known. "Give me a child for the Dark Lord."
After two thousand years, the wise men of Bethlehem are released from the Witch of Endor's curse and find themselves in North Hampton in the 21st century. Longing to return to their homes, they soon realize they can't … not until they complete their mission … to save a Jewish child from the Dark Lord and destroy the Witch.
•••••••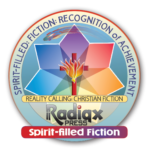 [print, audio, & Kindle versions]
Is this Urban fantasy, fantasy, romance, or what? Who cares? It's a wonderful book.
"This book has a great hero and spectacular heroine join from connected worlds to fall in love while they save the worlds. How can you beat that? This first book is the start. I hope the rest of the series measures up.
They're strong, genuine believer warriors!
They're moral, righteous, loving, faithful servants of the King.
It just keeps getting better—the plot not so much. The general plot is commonplace, but the details and the execution certainly are not. The characters are exceptional. The relationships are wonderful, inspiring. David and Aurora have an amazing, complex, deeply intense relationship between two outstanding people. It will get a little strongly erotic for some, but the boundaries of sin are never crossed although this reader experienced some pangs of peeping tomism—and that is not good. It makes me say that I'm not sure I'd give the book to a young teen. But then, I certainly hope they would manage their relationships like David and Aurora do. Here's the full review.
This was read and reviewed before we started the awards, and I cannot remember if it makes it to spirit-filled. But it was exceptional. I read it and then reread it, and then reread it again a month later. Obviously I really enjoyed this one.
•••••••
Gemworld by Jeremy Bullard
[print & Kindle versions]
For a US Navy SEAL, life can be many things — challenging, thrilling, rewarding, hazardous, unexpectedly short. Lieutenant James Salvatori knew all this going in, but nothing could have prepared him for his mission to Laos. What started as an anti-terror operation turned into an experience that was quite literally out of this world!
New lands, mythical creatures, powerful magics, immortal tyrants. What's a guy like Sal to do, except lock and load?
This is the first book of The Facets of Reality series, and I loved it! It is an exceptionally inventive piece of speculative fiction—probably in the fantasy genre. But, it's so much more.
The characters are compelling. The action is exciting. The story is what we all look for in a thriller. This SEAL transferred to a parallel/mediaeval world is a compelling hero.
Reality [of God, Jesus, and the Spirit] is largely subliminal, but it's definitely there. This is not a Full Gospel book and barely Evangelical. However, it is far above the "clean read" non-spiritual books commonly offered as Christian books. If you like speculative fiction, fantasy scifi, you'll love this book as I did.
It's actually (probably, or at least close to) cutting edge, paradigm-shifting speculative fiction. The environment it lives in is medieval with radical magic abilities woven into it. Jeremy has created a wonderfully compelling world which is different enough to allow him to say things which might not be heard in a more "normal" book. I'm praying he'll take it to the next level of reality also. But only he knows the vision the Lord has for the book. I'm eagerly awaiting the rest of the series.
•••••••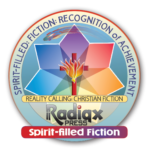 [print, audio, & Kindle versions]
This is an unique apocalyptic tale about a fantasy world with powerful stories to tell. It is epic in scope and a wonderfully entertaining bit of spirit-filled fiction. Here's a review of it."The sands blow hollowly across the plains of time. Unseen by man an army was on the move, an army of darkness…….
"Slowly over the course of centuries the truth has been eroded away within the courts of men, until few yet stand for the ways of El Elyon, the Creator of the beginning and He who foreknew that one day the end would come…
Amazon Link: The Kingdom
•••••••
This is the prequel to her Legends of Astarkand trilogy. It is equally good. Here's the review.
"A seeress sends thirteen-year-old Bjorn Horsa across the desert to retrieve a mummy's bones from the ruined Dracaenan city of Deathwater.
Buried with the mummy is treasure: a map and a journal that point the way to the forgotten kingdom of Astarkand."
Amazon's Link [print & Kindle versions]: Galthain's Bones
•••••••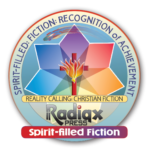 [print & Kindle versions]
This is a new series which is a bit more lyrical, poetic, and maybe more experimental. So far, only book 1 has been released, The Way. Here's the review of it.
"'I have a story', that's what my name means. Tarik, my father named me, but he's dead now and so is my mother. They all are and I …… I'm alone. The sound of the war giants hammering on the citadel gates stills rings in my ears. The fire warriors killed them, but the giants were just the beginning. I ran as my mother told me and now I'm apart from all I ever knew in a place forbidden to me and to make it all worse is the knowledge that nothing will ever be the same. Truly I am lost and I have no story unless Eloah, my Elohim, chooses to write one."
••••••
[Print & Kindle versions]
Zinovy's Journey is a unique and richly woven futuristic action adventure story about a man's journey through a new earth toward the discovery of a meaningful relationship with God. 
A cosmonaut on the Global Regime's International Space Station, he should be at the peak of his career. But Zinovy has enemies whose political power extends into space, and they are determined to kill him. Then the earth is destroyed in a nuclear holocaust and everything changes. 
In Zinovy's Journey, suspenseful action and lively dialogue are carefully balanced to keep the reader turning pages, intrigued by the conflicts–both external and internal–and challenged by the underlying philosophical and religious ideas debated by the characters as they walk from Cape Canaveral toward a mythical city located somewhere in the center of the earth. The journey is a long one, and dangerous. Zinovy has few physical weapons to protect himself and his companions from the threat of evil men in this world where all human technology has been destroyed. And he has no spiritual weapons to protect his fortressed heart from the onslaught of love that he begins to realize has followed him from his orphaned childhood to the present moment.
I am stunned at the beauty of this book. It has truth. There is joy to be found in the reading. Zinovy taught me so much. There's a lot of him in me, and you will find yourself on this book also. Open yourself to it, you will not regret it.
•••••••
[Print & Kindle versions]
A love-starved young woman slips away every night to adventure with dragons, mermaids and even aliens but then she wakes up.
In this unusual, Christian sci-fi fantasy  novel, Cara Peirce wants to help people. She wants love but making connections in real life just isn't something she's good at. Through an unsettling turn of events, Cara finds herself a mostly-willing participant in a bizarre life in which she only feels truly alive in her dreams. Her surreal adventures in other realms seem important, somehow. And, almost every night, she dreams of the same guy – Blaze Saxon.
In the end, only whispers remain. But the end is only the beginning.This is the story of a faded dreamer.
Actually, the story is closer to science fiction than it is to fantasy. But it's an excellent story. Celesta's books are always deceptively simple and direct. This book should be one of my worst fears: a lyrical, allegorical fantasy. But she avoids that adeptly.
[Print, audio, & Kindle versions]
Trapped inside a towering fortress, young Julyiah seeks to understand Gwenla's ancient riddles. As truth is revealed, Julyiah's heart takes her to both breathtaking and terrifying places. Evil forces try to stop her, for she has discovered how to free the enclosed community from some old and deadly deceptions.
What have the leaders been hiding for 400 years? Struggling with her own fears, Julyiah must press forward and make all the connections of truth, or she and those she loves will die, and the Secrets of Gwenla will remain hidden for all time.
As many of you know, I strongly dislike lyrical prose, allegory, and poetry. But this one got to me.
It may be that it brought me back to a lot of what I have experienced with the church as a religious organization. The story is eloquent about how religious rigidity stifles the flow of the Holy Spirit. Rare is the church which does not boot the Holy Spirit out in the name of safety and the maintenance of the illusion of control. As if we could, or would even want to, control God. But that's the absurdity which has become the norm in the modern, institutional, seeker-sensitive, politically correct church of the 21st century.
This is a story of love, faith, and courage in the face of severe trial. It's the essence of the tribulation the Lord promised us. Laurie tells us in the back matter that this book took a long time to birth. I'm not surprised. It was worth the effort. You should read this one.
•••••••
[Print & Kindle versions]
I have to admit a bit of guilt in enjoying an "angel becomes human" tale. I tend to despise such stories. Yet this one works. In fact, it gets stranger than that. The fantasy has the ring of truth though there is no savior and no Holy Spirit—no Messiah. Here's the review.
"Following your orders may seem like the right thing to do, but what about good? Does being right mean having to sacrifice being good?"
Orron, man with no knowledge of who he is or where he comes from, wakes up in a land called Edelyndia where the Church rules with brutality and an iron fist. He is welcomed in by a simple family after saving their ten-year-old daughter, Ly'ra. When The Keepers, the enforcing arm of the Church, launch an unprecedented raid on their village in Havanshae Valley, Orron is faced with taking up arms to fight for those he loves. In doing so, he must confront the reality of who he truly is and the purpose for his very existence."
Amazon Link: The Keeper of Edelyndia
•••••••
[Print & Kindle versions]
This book I'm almost embarrassed to admit I liked it as much as I did. I must admit I had a hard time taking this story seriously. But it held my interest well, and I really enjoyed it. It's a fantasy fairy tale of the Narnia ilk, but there's more obvious truth and a fair (though slightly distant) depiction of true Christianity. It's a 12-year-old girl brought in to save the day with every type of fantastic creature you've ever heard of—almost.
This one is fairly solidly at the evangelical level. But the Lord is a bit distant from humans. Evil is well rendered. The action is good. The characters are great fun. The dialog works.
So, what can I do but recommend it. It's not a great book. It's a very good book, quite entertaining. It's a solid addition to the Christian fantasy world.
And yes, it needs a much better cover….
•••••••
[Print & Kindle versions]
A huge book. It took a while to get into it, but it was worth it. Here's the review.
"Giving up isn't an option.
It's an adventure.
Following a car crash, Chase McKinney wakes in a swirling mist and witnesses the murder of children via a three-sided portal into another world. He steps through in search of young men called Chosen to help track the killer and child-stealer, Ancient Piper. But when Chase finds things sometimes pass through him and he can fly, it's clear to him different rules govern. And when he finally locates the Chosen, he soon learns he must survive this world, with its circa 1900s technology wed to supernatural dangers. For God has a plan for him beyond rescuing children—a seemingly irrational plan to experience life more abundantly. "
•••••••
---
SaveSave