Review: Legends of Astarkand by Krystine Kercher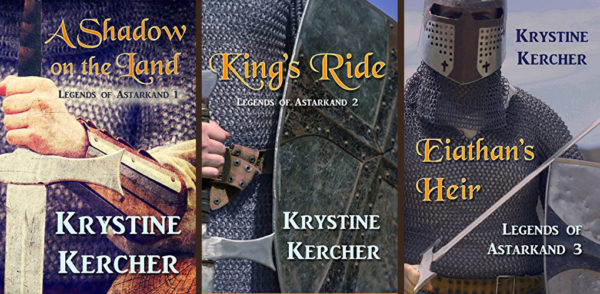 This Review: Legends of Astarkand is about a series which originally had very amateur covers. That is no longer true.
Review: Legends of Astarkand by Krystine Kercher
I was pleasantly surprised! This is an excellent tale.
[yasr_overall_rating size="large"]
A Shadow On The Land —Book One
I had read this first book quite a while ago, and I remembered I liked it. I had a vague memory of a nice story of limited scope. On this second read-through, I did find the descriptions to be pretty sparse. I don't find that to be tight writing but irritatingly empty. But that's just a personal foible of mine.
This time, it finally dawned on me what I found to be so unsettling. Here we had an heir to the throne who was righteous, a godly ruler. That is so unheard of in the 21st century that it really took me by surprise. For a long time, this process was obscured by the need to sort out the huge cast of characters. But, once it finally occurred to me what was going on, the story became really interesting. The rule of God and the Holy Spirit is reworded and subtle, but the effect on people is a joy to watch. The part of Messiah is there but it is contained within the role of Dreamsender, as is the Spirit.
 King's Ride —Book Two
By now I was into it. It was a real joy to watch the rulership of the Godly King unfold. It was fascinating to watch a new king take over righteously, in love and concern for his subjects, undoing the fear, pain, and horror experienced by the people through the former corrupted Kingship. Now it's clearly seen that the former King had allowed himself to be controlled by the terror of the one who hates us all.
Eiathan's Heir —Book Three
The spiritual darkness begins to openly and personally fight and attempt to destroy the new king. The dragon, hinted at before book one in an untold tale, returns with a vengeance. She tries to finish what was thwarted the first time where Prince Horsa had driven her off with a severe wound. The story ends with a tentative, surely temporary, victory. There is much more to come.
Krystine tells us in her descriptions of the books that A Shadow On The Land is a precursor to the King's Ride. So, I probably should have numbered the stories Prequel, Book One, and Book Two. Regardless, it is obvious that there will be another book. I am glad this is so (at least I hope it is).
What I enjoyed the most was watching a good king redeem the nation while bringing it into godliness. The joy of the people as they left their fear behind gave me shivers up my spine. You should read these books.