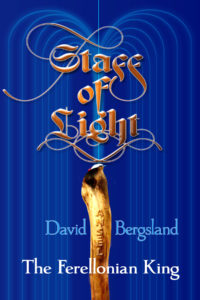 Here's the Staff of Light Media Kit for those needing the information. If you need something more, like an interview, and ARC, or however I can help you, please just ask. I'll help in any way I can.
The Staff of Light Media Kit
Staff of Light: The Ferellonian King
ABOUT Staff of Light: The Ferellonian King Book 1
Joen's rage knew few bounds through his early teens as church soldiers trashed his father's woodworking studio while he was there, Then they raped and killed his mother within hearing. But his anger finally triggered the death of his father and all his friends. As he struggles to survive all of that, he meets Lord Ansél who tells him that he is called to be king. What kind of absurdity is this? He's just a troubled artist and designer with no people skills and no place to live.
In this first installment of the Christian fantasy trilogy The Ferellonian King, Joen Bjarn'son learns that reality is quite a bit different than he expected. He discovers that the hated enemy of his childhood is merely a power hungry fool. He learns to deal with real power.
For a wholly created world, guidance is needed to learn about measurements, time, money, and the calendar.
In addition, maps are needed and some knowledge of the climate, culture, political, and religious history to bring Ferellon alive. The gazetteer in the back of the book gives you a solid introduction to the entire world of Ferellon.
ABOUT David Bergsland
David Bergsland had a long career in graphic design and printing, font design, art & creative direction, and college-level teaching of these things. He began writing when he turned fifty. By the time he retired from that career, his entry into full-time writing, designing, and publishing was a natural transition.
After becoming a Christian in 1974 out of a life of depravity and the occult, the love of his life (outside of the Lord and his wife, Patricia) became teaching scripture. These days he's working harder than ever in all these pursuits—enjoying life with his wife of 43 years and becoming acquainted with Rochester, New York, and the Finger Lakes.
Connect with David online:
Facebook: David Bergsland and Radiqx Press
Twitter: @davidbergsland and @radiqxpress
Websites: bergsland.org and radiqx.com
Visit David Bergsland on Goodreads 
CONTACT INFORMATION
Publishing/Marketing Queries: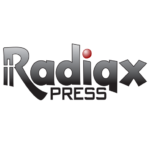 Radiqx Press
275 Sandalwood Drive
Rochester, New York 14616
Author Contact
David Bergsland: david@bergsland.org
David is available for online or digital appearances and interviews; contact Radiqx Press [see above] to schedule. 
ABOUT Radiqx Press
Our name [pronounced radicks] is an unofficial dba of David used for his publishing work. Though he has published a few things for others, that has largely ceased. The sharp focus is publishing spirit-filled fiction and non-fiction. The goal is to make a life walking with Jesus uncommonly clear and simple to give our culture (where true belief has become a myth or fantasy) the Truth. If you have any questions, please contact us through https://radiqx.com
ORDERING INFORMATION
 for the Staff of Light Media Kit
eBook price: $2.99 [Pre-release $0.99 except for Kindle]
Print price: $15.95
374 pages—110,000 words
Publisher: Radiqx Press
ISBN: 9781386347026
Available on:
Amazon | Barnes & Noble | iBooks | Kobo | Gumroad and distributed through Ingram | & many more
Staff of Light is available internationally – please contact us directly if you do not see it on your preferred book purchase website. 
Discounts or customized editions are readily available for educational and other groups based on bulk purchase. For further information please contact david@radiqx.com. 
AUTHOR INTERVIEW for the
 Staff of Light Media Kit
Realistically, how long did your story take you to brainstorm, write, rewrite, edit and publish?
Well, it's been over three decades of imagining, writing, tossing, starting over, and finally outlining to get it to the point that I felt I could write a completed manuscript. Then beta readers and editors triggered a major rewrite and expansion. So in total, it took about thirty-seven years—give or take a couple of months. 
So the questions every aspiring Author wants to know: From whence did your ideas come? Describe the process.
It started as a reaction to the increasingly ugly state of fantasy books. I grew tired of the perversions, lack of hope, and generally dark visions in the books I was reading. I missed the true heroes and heroines. I wanted an uplifting vision to pull me out of the daily horror show of reality. But I also wanted to show that horror and the source of it.
Who are your top 3 books/authors outside of scripture?
There are far too many to count. I've been a voracious reader since the early 1950s. I had a long science fiction period with Asimov, Herbert, Heinlein and all the rest. Dune and Ringworld were two I remember in particular. I read a lot of romance in my early teens, with Gone With the Wind having a major effect on me. But LOTR was life-changing. IN the past few decades, I've read a lot of military/political thrillers or action/adventure. I've read everything from Tom Clancy, Clive Cussler, for example. But there were many more.
I didn't begin reading Christian fiction until the 90s, and most of it was pretty weak—barely Christian in most cases. It was the time of the dreaded "clean read". It's only since the advent of ebooks toward the end of the first decade of the new millennium that excellent speculative Christian fiction became the focus of my Reading. It's now a major focus of my life and ministry. The new self-publishing paradigm has been a tremendous opportunity for many of us.
But if I have to pick three:
The Warrior Kind Guy Stanton III
Lord of the Rings J.R.R. Tolkien
The Chadash Chronicles-David G. Johnson
What is your favorite life memory?
Getting to know my wife during the renewal of the seventies. This was during my transformation from depraved, drug-crazed flower child/hippie to a child of God. It was an amazing time.
If you could give an aspiring author 1 piece of advice, what would it be?
Focus on discovering the Lord's will for your life. Then persevere. Keep on producing, every day. You are building a body of work and a consistent stance demonstrating who you really are.
Have you already started on your next book?  Give us a tiny pitch…
I've got the next two roughly conceptualized. In book two, Staff of Darkness, the enemy comes in like a flood seemingly overwhelming Ferrelär. The battles become much more moral, emotional, and dangerous.
What does your average writing day look like?
There really is no average. The days are all different for widely varying reasons. I try to get one to four hours of work done in the morning. But fairly often, Pat and I are up until four or five in the morning and I don't get up until nearly noon. 
Where do you find your entertainment?
Increasingly, most of the stuff which really interests us is found on youtube. We stream a lot: Hallmark, Netflix, Prime Video, whatever we can find on Roku. We're both hoping, convinced that the end is very near. So we also watch a lot of preaching, teaching, and prophetic interpretation. We work a lot at building our relationship with the Lord and each other. Most entertainment is increasingly controlled by the enemy. The news has gotten so bad that we can't watch much of that. Our main entertainment is found in creating beautiful things. Pat does a lot of painting. I write and do some drawing, landscaping, and wood-butchery to help decorate the house and the yard.
EXCERPTS FROM Staff of Light for the Staff of Light Media Kit
Excerpt One
Merqana fished in her cord bag and pulled out a tiny five-nick coin. Handing him the coin, she put the ink in a small bag and hustled her son away. As soon as they were out of hearing, she told her son, "Believe it or not, Joen, that small ink stone is worth somewhere around 35 cord."
Joen was stunned. A cord was about a day's wages. That little block of ink was worth more than he made in two full sections of work for his father. "Thank you, mother!" What could he say? This was really a treasure. He could hardly wait to try the ink it made.
She smiled at him. "You'll love the ink. It's almost completely opaque as you grind it on the ink stone. Let go get some meat and we're done. We need to get home so I can get our lastmeal started"
As she led the way to Qarl, the butcher at the edge of the market nearest their home and shop, Joen was already mulling over where he needed an ink like that. Maybe on the top of the small, dark nutwood jewelry box he was making her for Ansélday on Winter 3.
As they neared the butcher, Joen was sharply jostled by a large man. Something under his cape hurt. He looked over and with horror saw another large man grab his mother by her arm and spin her around.
He saw her face blanch as she dropped the bag with the ink into his arms already burdened with purchases. She quietly said, "Go home, son…" As her words were cut off with a gasp of pain.
The two men grabbed her and dragged her past Qarl's shop into an alley leading behind the market. He started running after her, but he was stopped by a hand smelling of blood as it covered his mouth. A big arm wrapped around his middle and dragged him into the butcher shop. "Quiet, boy! There's nothing you can do."
His scrambled thoughts finally recognized Qarl's voice and he quit fighting to get away. The big man turned him around into his arms and tried to cover his ears with a hug. But that didn't work well. Joen could still clearly hear his mother's cries of pain.
The butcher just stood there holding the boy. "Those are Thorn, boy. You can't mess with them. A dozen of us could not stop what's happening, Czuqin' Swine." he growled.
Joen stood there in shocked silence as his mother's cries finally quit. A bit later, the two men walked past the shop laughing about what a tasty morsel she had been. Joen's rage had no outlet, and he finally broke into sobs.
When Qarl finally released him, he grabbed the bags she'd been carrying and ran blindly into the heart of the ghetto—anywhere, away from the market. His mind was whirling. The Thorn! Everyone knew about them.
Excerpt Two
Enriq was different, though. His presence was like a ray of sunshine that illuminated her soul. He had a quiet joy lighting his face, and crinkling the outside edges next to his rich brown eyes, that touched her very deeply. Last winter, he had found her crying in the second alcove west of where she was today. At that time, the Court fools (as she was fond of calling them) were on her like ducks on bread. Their favorite sport had become reportage of Raqhel's latest "fit". The sport was to provoke a fit without ever violating courtly behavior.
The problem was that there was no way to her beloved library without passing through the Rotunda in front of the Offices of the Realm. She would try to sneak around the arcaded passageway that circumvented the huge circular intersection where Everything Important in the Realm occurred. It never worked, however. She was always snared by one of the courtiers before she worked her way to the hall leading to the library.
That particular day she had been surrounded by several including some of the worst of her brother's friends. Lanli Surgud had been given the task of provoking the fit. She had maintained her decorum, as far as they could tell; but the hatefulness of it was too much. She had almost run to the windows of the fourth level, laid her head on the desk, and began sobbing. Though she was doing her best to be quiet, Enriq had been in one of the aisles on the fourth level. Hearing the stifled sobs, he had come over to offer comfort, the best he could.
This was not the first time. He had been talking to Raqhel and helping her for nearly as long as she could remember. Ferrelär was not kind to girls with a disposition toward study. It wasn't that nice to young men who wanted to study as much as Raqhel did. Scholarship was distinctly out of style in the Kingdom. Women were not allowed to study in the Church or she would have considered a vocation there. All the schools were for men only (boys really).
Excerpt Three
Joen woke with a start. He looked around, still on the edge of panic. Where am I? He had no idea. It almost looked like a workshop or studio of some sort. Then he heard a scraping sound. No, not scraping—chiseling!
He partially sat up, leaning on his elbow and looked over toward the noise. He saw a giant bent over a block of wood clamped in a vise on the side of a huge workbench. There were chisels, gouges, files, planers, scrapers—hundreds of tools hanging neatly on the wall in back of the bench.
Oh Czuq! He heard me. The monster turned and Joen saw it was Emerqa. Fear almost closed his throat. He knows! But then he saw the smile light up the man's face.
"Good morning!" The prince's voice filled the room. "How're you this morning?"
"Not good," his voice trailed off in shame. Memories of the flames filled his mind. "Did anyone survive?"
"I doubt it, boy." Emerqa's voice was filled with compassion. "I imagine the Shield was under orders to kill anyone who escaped. I saw one of the Thorn among the soldiers at the gate last night. They'd do the killing, as necessary."
Joen was silent for a long time. Finally, he looked at Emerqa. Quietly, on the edge of tears, "I killed them, didn't I?
Ferellonian Gifts