Chadash Chronicles Omnibus Edition by David G. Johnson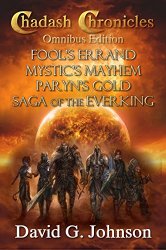 Chadash Chronicles Omnibus Edition
All the excitement and adventure of Chadash Chronicles trilogy now in one Omnibus Edition. Follow the Heroes of Dragon Pass through the adventures of Fool's Errand, Mystic's Mayhem, and Paryn's Gold. As a special bonus, the prequel novella, Saga of the Everking, is included where you can get a sneak peek at one of our heroes, Goldain, set eight years before the events of the Chadash Chronicles trilogy. Fans of the series will enjoy all their favorite heroes gathered in a single e-book volume. This Omnibus Edition is also a great way to give the gift of adventure to friends and family in time for Christmas.
This compendium contains the following books:
Saga of the Everking – Revised Edition: A Chadash Chronicles Prequel Novella
Fool's Errand: Chadash Chronicles Book One
Mystic's Mayhem: Chadash Chronicles Book Two
Paryn's Gold: Chadash Chronicles Book Three
Peter's Review:
The hook that cemented me in reading this series and its prequel was the Prologue in Fool's Errand. I was very impressed with this on its own and it could be read and considered a standalone short story. This forms the basis of the world building that Johnson is well known for. Throughout the Chadash Chronicles, Johnson takes us back to these roots in the various plots twists and turns and this forms a solid anchor from which the entire series is secured. The same can be said for Saga of the Everking. This is a great standalone novella and there are traces of this story scattered throughout the Chadash Chronicles which further builds upon this world building and supports and enhances that which is outlined in the Prologue.
Even in each of the three books of The Chadash Chronicles, Johnston builds upon the previous installment's worldbuilding so as the reader progresses in each story, they are being treated to a richness of this world that just gets deeper and more layered.
The same can be said for his plot structure and characterization. This series is one where you become extremely lost in both these structures and find it hard to return to the reality of life. Johnson's plot developments, twists, and turns not only keep you reading, but are constructed to provide a very detailed story line. This together with his characterisations forms a closely knitted fabric throughout the entire series. You become so endeared to the characters that you feel you are with them, you laugh with them and at their antics, you experience their joy, their pain, their disappointments, their despair, you are fighting alongside them, you might even feel a bruise or two! But above all, there are many characters that you learn to love, respect, admire, tolerate, hate even, so relational are the characters of Chadash. One of them even has a cult type following!
The spiritual elements are very powerful and based on those of Bible and Johnson's own personal experience before and after he became a Christian. His testimony at the end of each book of the trilogy is powerful and shows the depth of his commitment to represent the God of the Bible and the God of his life. It also shows his author's heart for a great story and his passion for creating the same. However, if there is one thing that Johnson shines in and is an expert in, is the integration of the foundational Bible tenets into his story creating without it being obvious and again forms the basis of a deep and rich spiritual world building. Many readers who are not Christian or have any religious upbringing have stated in their reviews or in correspondence to the author that they loved the spiritual themes, did not feel they were being preached to, or bible bashed.
Although Johnson ends the series well, I was left with the feeling that there should be or could be more in the future. It is comforting to know that the author is planning more. I am looking forward to this.
All in all, one memorable and cleverly constructed fantasy world. If a reader was new to fantasy, this would be more than a good introduction to this genre; this would one of the best introductions and one to keep you searching for more like this.
Highly Recommended.
---
Peter Younghusband has been an avid reader from as early as he can remember. Since becoming a Christian in his early 20s, his passion for reading led to specifically Christian fiction and this has developed into reviewing them on his blog. He loves reading new author's novels or authors who have not had many reviews or exposure and giving them much needed encouragement where appropriate.
Please follow and like us: