Daily Bread Enables Growth and maturity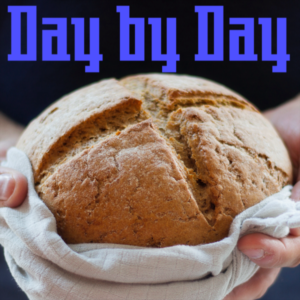 In our walk in the Spirit, daily bread enables growth and maturity. It's all about faith. We're ordered to not worry about today or tomorrow. We trust that He will provide for us. But we are to pray "give us this day our daily bread " every day. This presence in the Lord's Prayer shows us the importance of this concept.
For authors, the principle of daily bread enables growth and maturity and produces excellence
We don't know enough to really help our readers. We need to turn to the Lord for wisdom and guidance, every day, every time we write if we desire books that will transform lives.
"Trust in the Lord with all your heart, and lean not on your own understanding; in all your ways acknowledge Him, and He will direct your paths. Do not be wise in your own eyes; fear the Lord and depart from evil."
‭‭Proverbs‬ ‭3:5-7‬ ‭MEV‬‬
This preparation is essential if we expect His blessing upon our little fantasy, mystery, training manual, or bible study. We work out our salvation in reverent fear and trembling that we don't miss the work He has made for us in which to do good. We can only do good by the Holy Spirit, for only He is good. This is true of the books we write, also.
We each have our individual gifts
Paul tells us:
"We have diverse gifts according to the grace that is given to us: if prophecy, according to the proportion of faith; if service, in serving; he who teaches, in teaching; he who exhorts, in exhortation; he who gives, with generosity; he who rules, with diligence; he who shows mercy, with cheerfulness."
‭‭Romans‬ ‭12:6-8‬ ‭MEV‬‬
These gifts are to be used with grace and care to build people up in their walk and knowledge of our Messiah. The Spirit enables us to write with power—dispensing truth and love in the midst of our little tale. It may be entertaining, but it doesn't need to be pure fluff.
So, part of the daily bread we ask for is wisdom. If we think we can produce true excellence without Him, we are fools, or worse. Edification can be entertaining, but the reverse is sparse. You are not a believer to entertain flesh, but to build up spirits. Our time here remains short. In my reading for today I was reminded of that.
Look carefully then how you walk, not as unwise men but as wise, making the most of the time, because the days are evil. Therefore do not be foolish, but understand what the will of the Lord is. And do not get drunk with wine, for that is debauchery; but be filled with the Spirit… Ephesians 5:15-18 RSV
We don't have time to mess around. He could show up this afternoon.
Please follow and like us: