Christian Dystopian Fiction Conqueror (Defier Series #3)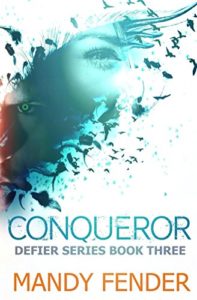 It was with a bit of relief I opened Mandy's Christian Dystopian Fiction Conqueror a few days ago. As the summation of the Defier series, I was curious to see where she would take it. I am not disappointed.
[yasr_overall_rating size="large"]
The bad guy is still horrific. The danger is compelling and believable. The blurb:
Still heartbroken over the loss of her best friend, Sky, Lennox must face her own demons as she continues to fight against Ahab and the Regime. She now serves as a combat medic, desperately searching for survivors in war-torn America. But as the Regime grows stronger and begins to genetically enhance both humans and animals, she questions whether she and her fellow Sparrows are doing enough. After an encounter with a Prowler changes everything, she must choose between vengeance and faith in God because the next mission she goes on could be her last.
Lennox is a wonderful main character—vulnerable and inspiring. The entire group called to resist the Regime is a blessing to read about. The story brings hope and joy. it has a wonderful conclusion.
Definitely Christian Dystopian Fiction Conqueror
It's a joy to read a solidly Christian adventure novel. I'm so tired of heathen tales—especially the ones posing as Christian fiction.  This book does not disappoint.
I awarded Mandy the Redemptive award, both for this book and for the series. It is very well done, clearly Christian, and inspiring. You will enjoy it, your kids will like it. It would probably even make a good discussion book for a youth group.
I'm grateful Mandy sent me a free review copy. It did not affect the review in any way.
[yasr_visitor_multiset setid=0]