Surprisingly, one of the sparsest places to find redemptive or better Christian fiction is in romances. Vetted Christian romances show relationship reality of a kind rarely talked about in church. For some reason, a real relationship is not seen as entertaining—when in fact it is glorious, edifying, and a huge joy when seen accurately.
I was really surprised, when I talked with my wife, Deborah Dunson, and Iola Goulton, at the agreement that redemptive romances are very rare and spirit-filled romances are almost non-existent. Of course, with the immense number of romances being published every day, we expect to find quite a few.
Vetted Christian romances show relationship reality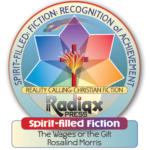 From the review: This is a spirit-filled thriller romance from Rosalind Morris called The Wages or The Gift and really enjoyed it. That says a lot because I quit reading thrillers a couple years back because of boredom and I've not enjoyed romances since my early teens in the late fifties. But this one is different.
---
Tabitha by Vikki Kestell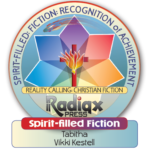 I just finished Tabitha, spirit-filled romance by Vikki Kestell. Of course, I don't like romances or historical tales, but I actually enjoyed this book. It's the first of a series of stories about women talked about in her 8-book A Prairie Heritageseries.
I assume that the original series is excellent—but it's no temptation to me [a 73-year-old curmudgeon]. However, this book is too good to come out of nowhere. The Palmer House is a wonderful setting for Christian living.
I say that  because much of quality of this tale was due to the excellent examples of Christian living. Tabitha is a marvelous character, transformed and made a new creation by the presence of the Lord in her life. It's an inspiring tale showing the wonders the Lord can do with a submitted heart. The historical portion was believable and well done. The romance was sweet and enjoyable. The pre-salvation horrors were graphically, yet realistically presented without glorifying any of it.
---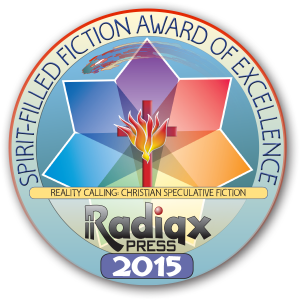 This was the Spirit-filled Fiction Book of the Year for 2015
"They desire me – They hate me – They molded me – They tortured me – They used me
I can't give up because I'm different now. I will never give up exposing the truth of who they are!
Shoot me – Poison Me – Chase Me – Restrain me – Terrorize Me
I don't care anymore. I've been redeemed and I'm standing where my God has placed me. I know the evil you've done. You know who you are. I'm not running. Come and get me!
A highly trained Russian assassin……….
An ex-pop superstar singer who just won't be silenced………..
A New World Order, who plans to destroy what God has redeemed……..
All come together in a story of redemption that features faith, action, and a romance that bullets can't kill.
Christian Speculative Fiction at its Best!"
---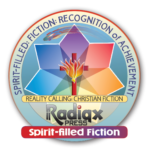 Deb submitted this review and award. Spirit-Filled fiction is so rare.
"The Test Of True Love shows us that forgiveness is a daily choice. It will challenge you, take you out of your comfort zone and force you to look at areas in your life where unforgiveness may be hiding out. We think we know what forgiveness is, but what if someone close to you who is suppose to take care of you does something so horrible that it causes you to be abused? What if that person was someone closer than a brother? Someone who knows your heart, but has neglected for so long to take care of it. Can you forgive? This is the journey that Trevor and Jasmine travel and it is not pretty, it is not wrapped up in a neat pretty looking package and the damage that happens because of unforgiveness will make you cry. This story proves that there are things we go through that are more than we can bear, but God will give us the strength to endure if we trust in Him."
---
From Deborah's review: I'm including the review of book 7: Saturday Showdown. Here is my review:
Saturday Showdown is MAGNIFICENT!
It is very rare that I will attach a prayer to a review, I've only done that once before. But the Holy Ghost was all over this book.
The things that are discussed in this book will blow your mind. I love that this book exposes the fact that we can have a man running for office who is after God's own heart, but even the so-called conservative will find fault with him or a find a way to slander his name. As I have always said, it has nothing to do with being a Democratic or Republican. But, that is only a little slice of heaven you get with this book. It has so many golden nuggets/life lessons that prompted me to pray in the early morning hours. And there were many moments when I wanted to cry. My favorite line in the book is, "It's never about you, but the souls attached to the assignment".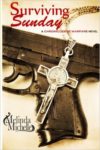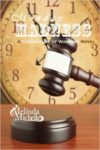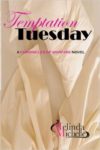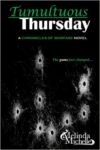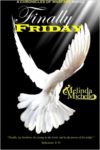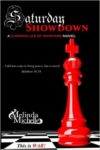 Individual book links: Surviving Sunday • Monday Madness • Temptation Tuesday • Watchful Wednesday • Tumultuous Thursday • Finally Friday • Saturday Showdown
---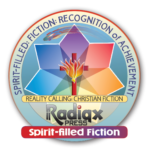 "This book has a great hero and spectacular heroine join from connected worlds to fall in love while they save the worlds. How can you beat that? This first book is the start. I hope the rest of the series measures up.
They're strong, genuine believer warriors!
They're moral, righteous, loving, faithful servants of the King.
It just keeps getting better—the plot not so much. The general plot is commonplace, but the details and the execution certainly are not. The characters are exceptional. The relationships are wonderful, inspiring. David and Aurora have an amazing, complex, deeply intense relationship between two outstanding people. It will get a little strongly erotic for some, but the boundaries of sin are never crossed although this reader experienced some pangs of peeping tomism—and that is not good. It makes me say that I'm not sure I'd give the book to a young teen. But then, I certainly hope they would manage their relationships like David and Aurora do. Here's the full review.
This was read and reviewed before we started the awards, and I cannot remember if it makes it to spirit-filled. But it was exceptional. I read it and then reread it, and then reread it again a month later. Obviously I really enjoyed this one.
---
Westbow's description: After the death of her father, Marisa seeks comfort in the woods of Gold Hill. When a mysterious lightning storm suddenly strikes, Marisa is hurled into the ancient alternate dimension of Carnelia where she meets Darian Fiore. With no hope of returning home on her own, Marisa has no other choice but to join Darian on a risky mission to negotiate peace.
This is not fantasy, but romance
With the new cover the book may be edited a lot, but I was seduced into reviewing this book because I love fantasy. It started out well. The parallel world concept is really overdone, but it's handled well in this version. She's dropped into a world of swords, horses, evil enemies—both human and animal. So far so good.
But after the third (or thirtieth) description of how glancing at Darian causes her whole body to tingle, or warm, or long for, or whatever I became really tired of the teenage emotionalisms and the solid lack of details or events surrounding the very real tale of intrigue, warfare, good versus evil, and all the rest. I could see an excellent story about the battles between the two families, but we never really got there.
However, it's a good tale. Once I got past the disappointment, the characters got me involved. Again, it was limited to only a few of the primary characters. There was no real description of the culture, politics, economy, or any of the other world-building I expect in a fantasy. But once I relegated the story to a romance, I put up with that. Later, looking at some of the reviews I noticed that this is Cheryl's first book. For that, it's really quite good. I came to like the characters enough so that further books by Cheryl are a hopeful prospect to me.
Spiritually: evangelical plus
I know, what does that mean? Well, I'm not sure. God has a different name, but he is our God. A savior, not so much. A loving god who talks with His children, yes—though it is not a common or daily event. However, emotionally and spiritually I knew these characters were true believers. That's rarely pulled off at all, but it's fairly well done in this book without any preachiness. It's actually fairly realistic, and that is a good and rare thing.
---
As a fantasy, the long-drawn out hemming and hawing of the romance compromises the story. But then when you are writing a romance, the actual life stories take second place. The Blades of Acktar fantasy does much better than most in keeping a focus on the story, and the world Tricia builds is well done, for sure. Here's the review.
"Courage could cost him everything.
Third Blade Leith Torren never questions his orders or his loyalty to King Respen until an arrow wound and a prairie blizzard drive him to the doorstep of the girls whose family he once destroyed.
Their forbidden faith and ties to the Resistance could devastate their family a second time.
Survival depends on obedience, but freedom beckons. How far does he dare go to resist the king and his Blades?
No matter what Leith chooses, one thing is certain.
Someone will die."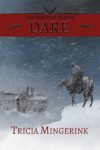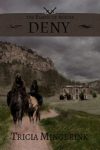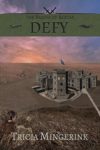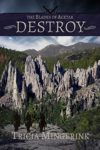 Amazon Individual links: Dare • Deny • Defy • Destroy [a new backstory on Defy, which I haven't read]
---