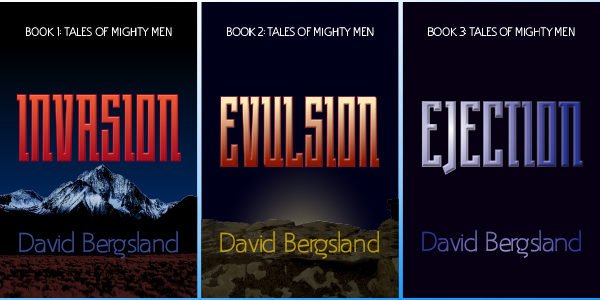 Tales of Mighty Men brings Godly warriors into everyday life. These are men and women who love the Lord serving Him by helping governments do what's right. They work much as the mighty men did for King David—doing what the King requires with little thought to their personal comfort or safety.
Christian Warriors?
Give me a break!
Surely I cannot be saying that there are Christians who could be black ops covert warriors. But yes, that's what I'm saying. In fact, I'm sure there must be some of them as the Lord has His sheep spread like salt throughout the earth. Now there are certainly no Christian porn workers or porn movie producers, but warriors? Of course there are.
David's mighty men are given good coverage in the Bible. In 2 Samuel 22 and 1 Chronicles 11, David's mighty men did amazing feats. They snuck David water from the center of the enemy camp after David vaguely wished for it.
Abishai, the brother of Joab, was the leader of the Thirty. He once used his spear to kill 300 enemy warriors in a single battle. It was by such feats that he became as famous as the Three. [1 Chrin 11:20 NLT]
Josheb-Basshebeth, a Tahkemonite, was chief of the Three; he raised his spear against eight hundred men, whom he killed in one encounter. [2 Sam 23:8 NIV]
These were supernaturally anointed warriors. But that begs the question:

How would Christian warriors act?
They would do their work with love, care, prayer, and guidance from the Holy Spirit, of course. This book is written by a believer with decades of experience in hearing from the Lord in very trying circumstances. You will be immersed in Christian living at a level most people never experience. Do you feel the need to hear from the Lord on a regular basis for practical guidance in daily living? This novel will show you how to do that.
The scenario may seem extreme, but only if you have not lived in New Mexico [since the 1960s]. Radical Mexicans get the money, supplies, training, and leadership they need—to do what they have been talking about since the mid-20th century, at least. The invasion comes suddenly on Cinco de Mayo. The burden of repelling the invaders and saving the union falls on Senator Daniel Aragon, the presidential candidate with the character to do what Washington shockingly refuses to allow. The Lord gives the authority and provides the warriors. How will it all work out? What's His plan?
It's a fun read, with real spiritual training and discipleship at its core. There's a lot of action, but these aren't trigger-happy cowboys shootin' up the range. They are warriors led by a former CIA assassin who's now a spirit-filled pastor. In Washington, experience a situation room meeting of horror and one led by the Spirit of God. A Godly political leader? Put that in your pipe and smoke it.
Tales of Mighty Men brings Godly warriors to the modern technothriller with no pretensions
Sure Clancy, Cussler, Thor, and many more authors form large portions of the reading foundation brought to these tales. Story-driven fiction focuses on the events. However, complex characters, detailed descriptions, a skosh of humor, and all the rest make up the body of the books.
Mainly, this is spirit-filled fiction directed at the reality of true believers within the military, intelligence, and covert ops communities. This common background of modern technothrillers, political thrillers, and military thrillers serves to point out how the reality of spirit-filled living can work within these environs.
Books 1 & 2 released April 20 & May 5, 2017
Invasion: book 1
Free! All the normal places, but it will take a while to reach Amazon. The print version is $11.95 Here is the Gumroad link which contains the ePUB and the MOBI versions.
From New Mexico, the land of enchantment, and its history of mighty men comes a modern tale of conflict
Deborah "Stones" Jackson at the ripe, old age of 31 had thought she was done with the covert life. The gut shot during the op in Eastern Afghanistan, compounded by the care of the Jalalabad hospital, had nearly killed her. Ralph, her boss at Black Sail in Maryland, had finally gotten her to Germany for emergency care. Then he sent her back to New Mexico to recover. She wasn't sure she'd be going back.
But a calling rarely lets up, and Stones was meant for combat. The new foe was devious, coming up from Chihuahua, with support in surprising places. She'd never been faced with traitorous Americans, amazing wealth, and the sheer nastiness of an oppressed people demanding freedom.
Cut off from the East with no resources, Deborah discovers that God has a plan for her which she never could have dreamed—far beyond her wildest imaginations. She'd have to deal with her mother, who was a legendary assassin?!
Evulsion: book 2
Released on Cinco de Mayo, May 5, 2017
Kindle version: 
Also available for iBooks, Nook, Kobo and the rest of the offerings of Smashwords and Draft2Digital. If you want to own [not lease] your book, here's a link to an archive of a DRM-free ePUB and a MOBI.
New Mexico has been invaded, cut off from the East, held by traitors, insidious enemies, and worse
Stones finds herself in the middle of the battle, but it's like she never saw before. Her parents turn out to be the power of intervention. She's been working for them and never knew it. But what can they do?
The President has accepted the invasion as fact and Aztlan, the new nation, as reality. It's disheartening to discover that the enemy is at least being helped by the Base Commander of Fort Bliss in El Paso and the Commander of the Pacific Fleet. No one seems to know where the power center is. It can't be that cartel thug in Chihuahua, can it?
But the key seems to be in New Mexico and her US presidential candidate, Sen. Daniel Aragón. The Lord is building a team, and He has a plan. Can they hear Him well enough to be used?
Ejection: book 3
Released on July 4, 2017
Also available for iBooks, Nook, Kobo and the rest of the offerings of Smashwords and Draft2Digital. If you want to own [not lease] your book, here will be a link to an archive of a DRM-free ePUB and a MOBI after it's released.

The enemy has been largely exposed. The plan is ready to be executed, but when it's in the Lord's hands you never know for sure beforehand
Deborah has received her orders and they scare her half to death. An assassin? Really? How can she do that? Killing in cold blood! Stones' recent, extreme conversion in Evulsion surfaces in some severe questions about what she is doing, both its legality and morality. But she's working with a Godly team.
General Marti has similar issues as he aligns his new-found faith with his plans for the redemption of his error. Fort Bliss will be a tough fight against Santiana.
The rest of the plans are much more fluid as Senator Aragón deals with the reality of leadership, under God. God's plans are amazing, as usual.
These tales edify as they entertain, that's a good thing
That's their purpose and reason for being. But you'll find no preaching, bible-bashing, or self-righteousness. These are men and women who know where they came from, what they've been forgiven, and how grateful they are for the help and guidance of the Lord, the Holy Spirit. Tales of Mighty Men brings Godly warriors into a reality you may not have imagined. Some questions raised can change your life [if they haven't already]. For mature believers, these tales bring us a romp, a time of refreshing, from a world of absolute madness.