Review: Surviving the Apocalypse At by Celesta Thiessen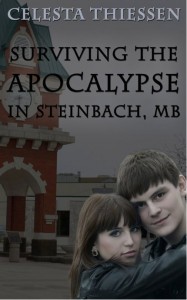 There be zombies! Was I surprised.
A strange Christian thriller.
This is a Christian book, so I assumed it was about the "real" apocalypse coming soon. In fact, the Coming King is not even hinted.
However, it's a good story…a post calamity survival tale of realistic young love dealing with life & death issues of survival in a Canadian winter just south of Winnipeg. Yes, there are zombies.
Evidently, the cover image is supposed to be this dull & grey with a leaning building.
It's for younger readers, but I enjoyed it at thrice the age or more. It will show them real believers in rough situations, handling the trials as a believer should.
Please follow and like us: