The Pre-Christian Kinsmans Tree contains truth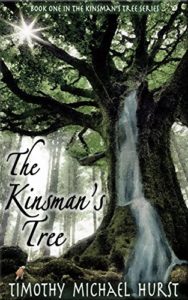 Importantly, the Pre-Christian Kinsmans Tree contains truth in enough measure to work well. This fantasy of a unique world at times seems to be allegorical Genesis. And, then again it's pure fantasy. The Kinsman's Tree is rich with meaning on many levels.
[yasr_overall_rating size="large"]
For a believer, the allegories are a bit obvious. However, it's quite possible they will be unnoticed by the heathen. It's obviously in Tim's heart to touch both believers and non-believers. In Peter's new novelist spotlight, Timothy says:
I seek to craft entertaining, enriching, and inspiring tales that glorify the Lord in confidence that the Holy Spirit will use them to change lives and draw people closer to Jesus Christ.
He has certainly done really well with his first effort. This is a very entertaining book.
Pre-Christian Kinsmans Tree is frustrating
This is true for two reasons:
First reason: there is no savior. Hints show up here and there, but they're camouflaged fairly heavily. Of course the Rock of Offense may need to be hidden for a while. That's between Timothy and the Lord.
An excerpt
Madame Agatous looked down gravely as she composed herself before resuming, "As of yet, our scouts have returned empty-handed from their journeys into the wild, if indeed they returned at all. We all agree that the importance of locating the Eben'kayah's Kinsman is paramount. It has also grown more dangerous for us under the watch of the Nihúkolem, who seem intent to cart off any Etom, Eben'kayah or no, whom they believe to be involved in our mission. We've lost several families already, and we daren't risk losing any more to them." Agatous raised her voice in passion, "Our situation calls for our total commitment. Of time. Of resources. Of self! It is with this understanding that we call upon all the Eben'kayah of Endego to be sent in search of the Kinsman. We've all prepared for this. We've trained for this. We've lived for THIS!!!"

Hurst, Timothy Michael. The Kinsman's Tree (Kindle Locations 3855-3859). Vixen & Grove.
As you can see, their search for the Messiah [I assume, but don't know for sure] focuses their walk with God.
Second reason: Yet another cliffhanger ending comes with calls for prosecution under author abuse 😉
Timothy gave me a review copy with no strings, and I'm grateful. But you really will enjoy the book.
[yasr_visitor_multiset setid=0]
Please follow and like us: