Star Wolf provides great entertainment and some spiritual truth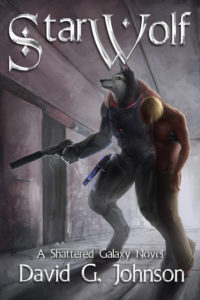 We've been waiting for this one for a while, and it's worth the wait. David just released a new book, & Star Wolf provides great entertainment and some spiritual truth. As you know, I regularly pan pure entertainment as a waste of time. But DGJ has definitely kicked it up a notch.
[yasr_overall_rating size="large"]
I can't remember that last time I gave five stars. But then, it may just be all the non-Christian books I've been reading lately. The joy of Star Wolf is the presence of realistic believers, with many levels of belief and understanding. There's no preaching, just the "living" witness of his constructed characters.
I liked the fact that the aliens were all considered part of Creation with a possibility of salvation—though that is never mentioned, really. I found the angels and demons as alien races to be a bit outside scripture, but it fits with the narrative and the suspension of unbelief comes easily. This is fiction, and David was obviously very careful to avoid anti-Biblical speculation.
Star Wolf provides great entertainment and some spiritual truth
I loved the writing. It reminds me of the wry humor found in the old Clancy or Asimov books—turns of phrase that had me annoying my wife with "listen to this one…".
The scenarios are often outrageous, but always conceivable. The levels of tension rise and fall well. I found myself really caring for the characters—even the nasty ones. It takes real skill to give us compassion for the evil guys and gals.
It's not hard science fiction, but quite believable. It's certainly internally consistent, and that's the basic need. The Shattered Galaxy is a bit over the top. But David's worlds are always nearly overly detailed. But, I love the detail, though I know many are not so enthusiastic.
It's just religious fiction, so far. No radically transformative salvations yet. But I expect that will be fixed in future books. It's a wonderful world to explore and I can't wait for book 2.
[yasr_visitor_multiset setid=0]
I was given a review copy with no strings. I can't help it that I loved the book.
Please follow and like us: