Divine Space Pirates trilogy romances the genre mercilessly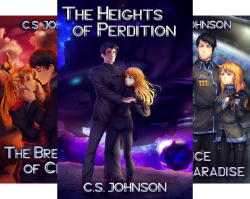 The Divine Space Pirates trilogy romances the genre without mercy. The science fiction is largely lost in the dominance of the relationships. Nonetheless, it's a good dystopian scifi tale also.
The characters are complex, believable, and compelling. The world-building is very good. Even the bad guys are understandable.
[yasr_overall_rating size="large"]
I had some hope that the spiritual aspect would be stronger. There's quite a bit of spiritual truth. Yet, Jesus never showed up. Spirituality shows as a major theme, but redemption barely appears. The story frustrates me spiritually with no savior or Holy Spirit. That saddens me, but the tales are enjoyable.
This top-rate entertainment teaches about solid relationships. But again, the needed spiritual foundation was diverted somewhere else.
The blurb
"There is nothing Aeris St. Cloud wants more than to win her father's love and the acceptance of her family unit by joining the Military Academy at New Hope. But after she is captured by the fearsome space pirate, Captain Chainsword, Aerie is certain falling in love with her nation's arch enemy is the last possible way to earn their coveted esteem.
"Driven by vengeance, Exton Shepherd never set out to save anyone. As he circles the war-torn world in his pirated starship, the Perdition, he only sees his father's ghost lurking around every corner and the looming darkness on the horizon. When Aerie unexpectedly tumbles into his life, he finds he cannot trust her, anymore than he can ignore her. But just like the raging war down on Earth, it's tempting to think he can …
"When the war ascends to the heights of the Perdition, Aerie's loyalty, and Exton's heart, are put to the test. But will love be enough to save them – and others – from certain destruction?
"The Heights of Perdition is the first book in the Divine Space Pirates trilogy, a futuristic romance series where family, faith, and freedom are all at risk. Look for Book 2, The Breadth of Creation, as the story – and the war – continues on!"
[yasr_visitor_multiset setid=0]