Christian living became fantasy last century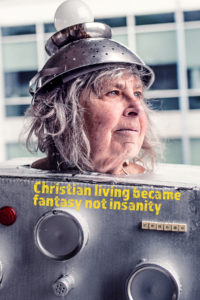 The phrase Christian living became fantasy expresses my most recent revelation about writing fiction. During the later portion of the 20th century and the first portion of the new millennium, truly walking in the Spirit reached the realm of myth in the minds of the religious faithful and the world. This seems to be truer in the Church than in the world.
Think about it. I'm not talking about seeing people saved, delivered, healed, and empowered in your life—though these signs should follow you in your daily walk. Reality should reveal close intimacy with the Creator of the universe, all day, every day. Do you think Paul talked about prayer without ceasing casually?
We urge you, brethren [believers: male, female, young, & old—ed.], admonish the unruly, encourage the fainthearted, help the weak, be patient with everyone. See that no one repays another with evil for evil, but always seek after that which is good for one another and for all people. Rejoice always; pray without ceasing; in everything give thanks; for this is God's will for you in Christ Jesus. Do not quench the Spirit; do not despise prophetic utterances. But examine everything carefully; hold fast to that which is good; abstain from every form of evil. 1 Thess. 5:14-22 NASB
Prayer is conversation
This conversation resembles those long, close, intimate talks you had with the love of your life. The truth goes beyond resemblance. In fact, once you come to know Jesus, He quickly becomes the love of your life. You talk with Him about anything and everything. No concern escapes discussion. He knows everything about you and loves to show you how to respond, how to think, what matters to Him.
Christian living became fantasy to most
For them, it turned into a religious exercise, an insurance policy, or empty rote performed as a fatalistic habit. My revelation showed me I can make this way of living clear in a fantasy book and readers will see it as magic, myth, or a way of power. More power expresses itself in this fantastic way of living than many have seen in their entire lives.
Book One: Staff of Light was released by Easter 2019. Book Two: Staff of Darkness was released in February of 2020. Book Three: Staff of the King was released June of 2020.