New Ferellonian King trilogy is coming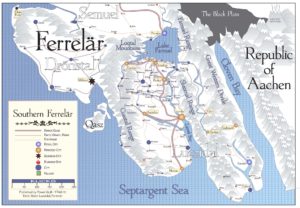 A new Ferellonian King trilogy is coming. It looks like 2019 will bring about the beginning of the release of my new fantasy trilogy: The Ferellonian King series. Book one: Staff of Light will be looking for beta readers very soon.
Most of the past few weeks have been spent updating my maps to include what will be necessary for books two and three. I recognize that my map is much more complex than normal. But then, when have I ever done anything normal? I need the map to help construct the tale. Doesn't everyone need that? Your opinions on the map will help.
I'm excited about the new books which I've been working on since the early 1990s. Only recently has the Lord shown me where to go and what to write to bring them into reality. This real and graphic spiritual warfare on both sides, good and bad, will probably offend some. A different culture on a fictional world while remaining easy to relate to is tricky at best. I can only pray for the anointing to make it all work. Your prayers are hoped for, also. All the help I can get seems more necessary all the time.
I couldn't do it without Him and the Holy Spirit. What a fine line we walk between prophecy [allowing God to speak through us] and entertainment. My goal is to allow the Lord to speak to my readers. Only they will determine if I have been successful. The Lord's opinion is all that matters to me on these things.
My prayer remains that you will be blessed by reading it.
Please follow and like us: