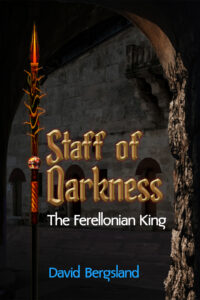 Book 2: Staff of Darkness brings pure evil and returns the throne to the Fendrales. But the process starts out very dark. Horrifying, in fact. Ferrelär is assaulted with the worst, most overt evil it's ever experienced. As I mentioned with the Staff of Light, this tale is an otherworldly, gritty heroic fantasy dealing with truth & spiritual warfare. It's built on the premise I've discussed in many places, that spiritual Truth, in the modern world, has become fantasy to most, even those in the church.
Staff of Darkness continues the tale. Now we must deal with unrestrained evil. Will Ferrelär turn back to the Lord who has blessed them so powerfully in the past? Or, will the entire culture drop any pretense in favor of incredible physical pleasure?
The Staff of Darkness back cover copy
What do you do when spiritual warfare becomes so ugly?

Joen Bjarn'son was warned repeatedly in book 1 that the real problem was not Heglin Roark. As if the former Primate head of the church, the Usurper King Heglin Roark weren't bad enough. Now Joen and Raqhel find out that he was not any real threat at all. His replacement is actually consciously evil, with spiritual power to back himself up.

On top of that, Raqhel Fendrale is given a calling as impossible as Joen's. Things are now incredibly complex. Lord Ansél just tells them to trust Him. So, what can they do but trust? Panicking would be a waste of time at best. Their new friends are a true blessing, but is it enough? Of course not. Only He is enough.

But then there's their relationship. How will that be affected? With everything in such an uproar, where's the time for them? I mean what could go wrong?

Oh, the answer to the headline question? Stop it!
My question for you? When was the last time a fantasy brought you into worship?
The map of Ferellon from the Ferellon Gazetteer is available in a 24″ square poster, so you can see all the details where this story all takes place.