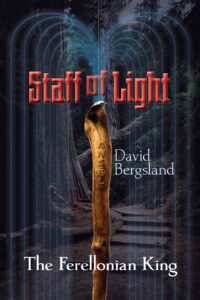 Book one in The Ferellonian King series: Staff of Light brings us Ferrelar — the largest nation on the Isle of Light. It's an otherworldly, gritty heroic fantasy dealing with truth & spiritual warfare. It's built on the premise as I mentioned elsewhere, that in the modern world, spiritual Truth has become fantasy to most, even those in the church.
The map of Ferellon from the Ferellon Gazetteer is available in a 24″ square poster, so you can see all the details.
The Staff of Light back cover copy:
An otherworldly, gritty urban fantasy dealing with truth & spiritual warfare
The life of Joen Bjarn'son had brought him to the point of unquenchable rage. He had withdrawn almost entirely within himself. Then he does something very stupid. He lashes out at the man responsible.
But Heglin Roark, Primate of the Ansélan Church for the Kingdom of Ferrelär strikes back with a vengeance. His plans to deal with Joen's kind are basically genocidal.
The Primate believes in the power of the church and its liturgy. The Known talk with the Lord directly, and he cannot control them. There are some personal things going on also, but the result is he's increasingly using the Known as scapegoats. Joen's campaign against him results in him moving his private war out into the open.
Joen's devastated by his guilt, insignificance, and isolation. He doesn't Know the Lord. Yet Lord Ansél has plans for him beyond his wildest imagination.
Far off in the king's palace, Princess Raqhel lies in her suite of luxury terrified by her brother's physical advances. What was to become of her? What should she do?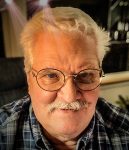 David Bergsland has been writing since he turned 50. Now, he's finally worked up to where he can do what he wanted to do from the first: A fantasy containing the reality he lives with, day in and day out. Finally, he's old enough to simply write what he knows he should be writing.
Of course, that's a little nerve-wracking.  But what's new? That's been the story of his whole life. He prays you'll find it inspiring.
The Staff of Light brings us Ferrelar — the rest comes later.