Black Sail Invasion Chapter 3: a serialized political thriller
If you missed chapters 1 & 2 here they are: First Blood, and Cutoff Point #5. We're planning on a fall release in 2012. Contact us if you want a review copy and we'll put you on the list.
__________________________________________________________
The Senator's Wisdom
Wednesday Morning, the sixth of March: Deborah's room of the Jackson Hacienda
Deb woke up in her old room. She had asked her father the night before to let her sleep 'til she woke up. She opened her eyes completely refreshed with the high thread-count cotton sheets caressing her body. When she moved there were a few reminding aches, but she felt wonderful.
I hate adrenalin, she thought. She had been so wired the night before while talking to her dad she could hardly remember what she said. All she could remember off the top of her head was the image of two dark, short men lying in pools of blood on the pavement next to their truck with the third writhing on the ground near the rear tire.
"Let's not go there," she said to the Western meadowlark singing his heart out on the top rail of the fence on the far side of the narrow lawn and garden outside her open window. As she raised herself on her elbow to look out, she saw that the Austrian Copper rose was almost aflame with those brilliant red-orange single flowers blending to the brilliant yellow centers.
In front of the rose bush, she saw a deep row of dozens of different daffodils. She remembered planting the rose with her mother the first summer after they finished the house. It was now six feet tall, ten feet wide, and absolutely gorgeous glowing in the morning sun. It was always the first rose of spring to bloom. She glanced at the retro  chrome alarm clock on the old oak washstand next to her bed. It was almost nine thirty—time to get up.
She looked around her room. This was still her favorite place on Earth. Here she was loved and cared for. Her best memories were from when she lived in this house—they sustained her in the field. Her experiences in the world were not good—but harsh, evil, ugly, and dangerous. Here she found peace. The room breathed comfort: the warm tones, the rich wooden furniture, especially the tall four-poster mahogany bed she was sleeping in. Her eyes followed the twists of the posts up to the white gauze canopy above her. In all her years of looking, she had never really understood how someone could deal with the complexity of the carving. It was wonderful.
She flipped the sheets off, noticing the soft daffodil yellow color under the warm paisley comforter. The morning air was pleasantly cool on her body. The scabs and bandages on her knee reminded her of the previous night's events. But she'd think about that later. She walked across the room, slipping off what she had been too tired to remove before she fell in bed. She removed the gauze bandage from her knee and stepped into the Italian-tiled shower in the three-quarter bath off her bedroom with a 9-inch crystalline shower head. She stood under the shower for almost a half hour, letting the heat and the various settings on the shower head review, massage and lift the stiffness out of her shoulders, back and thighs. The water made her knee hurt a bit as it ran down her leg. But she wondered what it was about hot water that felt so good on your body. Again she was thankful for that instant water heater Jakob had installed in her bathroom. She could shower until the water ran out or the power was interrupted but as we read in the guide by Showerheadly this kind of behavior is very wasteful.
She was comforted, as always, by the beauty, calm, and order of her parents' home. Her father's engineering inventiveness coupled with her mother's design and color sense had made a beautiful sanctuary from the cares of the world. As she dried off, she looked at herself in the mirror to assess the damage. She saw that she was developing quite a set of bruises on her legs and she had an ugly collection of scabs on her knee. The left knee was really sore. It felt like she had slightly strained her left shoulder swinging the bat. The major problem was the black eye. Full painted face today, she thought as she rummaged in the drawer for some opaque concealer to begin the eye repair. She giggled, maybe I better ask Dad for a trowel. But, all in all, she felt exceptionally satisfied. It never made her feel bad when she could actually do something about the shenanigans of toads.
Thankfully, she always kept some comfortable clothes in the old, hand-carved, butternut dresser next to the window. It was already getting warm, but she shrugged into a flannel shirt of her dad's. Her mother had cut the sleeves off for her when she was a senior in high school. She was into comfort this morning. Comfort clothes were required on a day like this. But it went beyond the feelings of soft fabric and easy fit.
These clothes were a comfort in that they reminded her of how safe she was in this place and the source of her safety. Her parents were a strong safe place in a storm. They would be a real comfort as she dealt with what she had done last night. Fool that she was, she'd thought that part of her life was over. She pulled on her favorite jeans and kicked on some deck shoes she loved to wear on the cool brick floors of the house. They were a mess outside, but really comfortable in the house.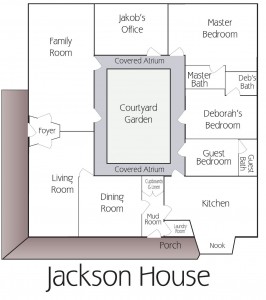 With a definite bounce in her step, she stepped out into the garden and headed for the kitchen to see what she could find for breakfast. As she opened the door from the atrium and rounded the refrigerator into the kitchen, she was surprised to see her mother working on the rich red Italian-tiled island next to the little black prep sink.
The morning sun bathed the center of the kitchen through the skylights with glorious light that was still golden. The copper pots hanging over the center island gleamed in the sun next to the huge copper hood over the large six-burner stove. The pansies outside the window over the sink basked in the remains of the morning sunlight as it climbed out of view over the house.
"Hi, Mom! What are you doing home?" She was puzzled for a moment. "It's not Friday… oh yeah, the senator." She bounced over and gave her mother a big hug.
Rachael Jackson was even prettier than her daughter—and that was saying something. She looked quite a bit like Liz Taylor had looked in her forties. Jakob said she was stacked like a brick…Rachael always cut him off at that point.
This morning she was wearing a brilliant yellow cotton housedress with purple iris growing from the hemline. It had a relatively low, scooped neckline that showed a little cleavage yet remained modest. Her loosely curled, thick auburn hair was brushed out and her makeup was impeccable. She was ready for her husband to come home. He was up at the Lab this morning but coming home early today for their guests.
"Your Dad told me what happened to you last night. I see your legs are a mess and it looks like you had to trowel on the makeup—but you seem to have survived." She gave her daughter a broad smile.
"Yup. I think I'll live." Deb was literally bouncing on her toes as she headed for the pantry.
Deb's mother was modest, as well she should be. After all she was Senior Pastor of a small non-denominational church in Peralta on Highway 47 on the way into Albuquerque. She'd found people to cover for her tonight at the Wednesday evening service. The meeting at the house was more important.
"Whatcha cookin'?" Deb asked while rummaging through the shelves and cupboards. She found a box of Grape Nuts, pulled an iridescent black raku bowl from Japan out of the cupboard, and set them on the counter next to the fridge. Grabbing a gallon of milk from the fridge, she filled the bowl with cereal and poured the ice-cold milk on them. Then she removed some thawed strawberries from the fridge to spread on the top. Hooking a spoon from the drawer, she went over and dropped into the breakfast nook across from the island toward the center of the house, and started to eat.
The breakfast nook had south-facing windows with a large overhanging tiled awning to protect from the summer sun. It was still a little cool now, but the heat happened for the majority of the year. The nook was fit into the wall next to the large pantry lined with shelves that Jakob had beside the laundry room off the southeast corner of the kitchen. The room was painted a rich hunter green that set off the rich glow of the handmade oak cabinets.
On the east side over the stainless steel sink with a built-in drainboard was a large window facing the rocky face of the mountains. In it was a long flower box that drained into the sink. It was still filled with pansies for spring. They wouldn't last long as summer approached, though the swamp cooler helped keep them going inside much longer than the ones planted outside.
On the north wall was a long counter covered with the Italian tile ending at a large side-by-side refrigerator. On the far side of the refrigerator was a door facing north connecting the end of the covered atrium on the east side of the center courtyard heading north in front of the guest bedroom, past Debbie's bedroom, up to the door of the master suite. The west wall of the kitchen had a baking area with a marble counter. On the left side of the counter was a door that went into a small entry room that opened to the outside door on the left or the dining room on the right. It was a large, functional, beautiful place to prepare meals and eat.
"There's fresh coffee in the pot. You want a cup?" Rachael asked. At her daughter's nod, she pulled a cobalt blue, hand-thrown stoneware mug from the cabinet over the coffee pot and poured her daughter a hot, steaming mug full. She poured her old coffee from a matching mug into the sink and got a fresh cup for herself. Then she came around and sat down across the table from Deborah.
"Your legs look pretty beat up and that eye looks sore. Your father told me you were playing Wonder Woman last night. How are you feeling?" She said, smiling at her only daughter. She carefully kept her concerns hidden.
"I don't know, Mom. I was really upset last night, but I think it was just the adrenalin. I'm feeling great this morning. I just snapped last night and that concerns me. I thought I had better control than that now. Thank God that man and his wife are OK. I sure hope I didn't kill any of those thugs. I don't need that kind of trouble." She looked up at her mother. "What was I supposed to do, Mom?"
Rachael smiled gently. "I don't know, Deborah Anne." She always used Stones' full name to indicate she was being serious (or angry). "I wasn't there. But, I trust your judgment. As for control, we often do not know what is coming up, so all we can do is react. As for your future, the Lord knows the plans he has for you. I don't really have any idea.
"Your father told me what you told him. After he left for work this morning, I listened to the Belen radio station for the morning news, but they didn't mention anything. There wasn't even a report of a beating—but then there are so many anymore that no one pays much attention. I finally had to turn it off though. It's gotten so there is little that's interesting unless you are part of one of Belen's extended families. They should call it the Baca—Tabot—Aragón—Chavez—Romero—Jaramillo news hour. It's become an audio gossip rag. It does help keep me up with the new Spanish slang though." She shook her head in disgust.
Deb was surprised. "There was nothing about those three thugs?"
"Nope."
"I wonder what happened," Deb was genuinely puzzled. She had been sure she had really hurt at least two of them or killed them.
Rachael had obviously thought that through. "I think they were illegals. Some friends found them and got them out of there before the Border Patrol was called in. That's theory number one, anyway."
"You're probably right." Deb shook her head tossing her wavy auburn hair over her right shoulder with the same motion used by her mother. "Now I am really curious about those new, expensive trucks we've been seeing. The three toads had one of them."
"Me, too," her mother replied. "They seem to be all over down here in Valencia County. I rarely see them up in Albuquerque, but then I don't often hangout in the Spanish strongholds of the South Valley either. I saw at least six yesterday just going across the river to the Wal-Mart and then back to go down to the church. You're right. They are a new phenomenon around here. Ten years ago you rarely saw Chihuahua plates. When you did they were on some old beater truck full of produce or one of those Juarez specials that looked like they were held together with baling wire. There must be forty or fifty of this new breed." She looked thoughtful, for a second. "Maybe there are a lot more—it would be hard to tell. They are all identical except for the Hummers, and the way the windows are tinted you have no idea who's inside."
"I agree. The black Dodge Rams, at least, are identical. But I've only seen two Hummers—a yellow one and a black one. They all have that little Aztlan sticker and identical rims. Just the tires and nineteen-inch rims must have cost several thousand bucks, and these aren't the little H3s. We're talking real money. Dad said last night we should ask Senator Dannie tonight." She glanced over at the kitchen island. "I assume that's why you're so busy cooking."
Rachael nodded. "I better go back to work."
Deborah slid out as her mother did. She went and put her bowl and spoon into the dishwasher. After putting the cereal away, she came up behind her mother who was back at the island. She put her arms around her and hugged hard. She leaned her cheek against her mother's delicately scented hair. "Thanks, Mom. What can I do to help?"
"Well, both Dannie and Nancy are always complaining about the lack of good green chilé. As you know, Nancy's cooking is not her strong suit, and their cook in DC is French. They've been asking me to teach their cook, but the time has never been right. All anyone has anymore (even around here in many cases) are those darned jalapeños. So, we're having burritos. I've got chicken in one crockpot and a roast in the other. There's three quarts of roasted green chilé thawing in the sink. If you would peel them, you could make the green sauce. I'll work on the red."
Deb reached under the island and grabbed the large stainless colander and a medium-sized stainless bowl. She went over to the sink and put the freezer bag next to the colander in the sink. She turned on a little water and started peeling the roasted skins into the colander.
"Boy, these were roasted well. The skins are just slidin' off." She tore off the stem ends and split open the peppers to remove the seeds and veins. Then she tossed the peeled and gutted chilés into the bowl.
"That's why we still go to the farm stand in Los Lunas. They'll give you a good roast, if you ask. Plus, they have that really good chilé, with lots of flavor—but it's not so horribly hot. Make sure you get all the seeds and veins, though. The Aragón's tongues are not so tough any more. They've been in DC too long. Plus, it is getting to the end of year and chilés always get hotter in the freezer."
"Isn't that the truth? I've been careful. I don't like year-end chilé nearly as well as the fresh stuff." Deb replied. "I can hardly wait for August." She took a deep breath. Nothing in the world smelled better than green chilé—either when it was being roasted in the fall or when it was being peeled. "Sometimes I think I can smell the roasting chilé even now. Do you want all these in the green sauce?"
"No, only about a third of them. Only your father and Dannie like the green. The rest of us will be having the red—unless your tastes have changed. I just want to be sure we have enough for the Secret Service."
"The Secret Service…?" Deb exclaimed, turning to her mother.
"Yes, ever since he announced he was running for president and won in New Hampshire, he's been protected. Nancy was saying that he is getting death threats almost daily. They'll be coming over the back road from the base the way your dad does. So, there will only be two agents tonight—as far as I know. However, I'm sure there will be more prowling the hills. Nancy said they were coming alone and unannounced—but the Service takes its role seriously.
"The detail will probably enjoy the New Mexican cooking. If they don't like it I have some cold cuts for sandwiches and some potato salad. There'll be a lot of iced tea and some pop—whatever they'd like.
"The rest of the chilé is for the guacamole and green chilé dip. You'll find three large bags of blue corn chips in the pantry. We'll let Jakob make the dips. Just put the rest of the chilé in the fridge."
Jacob got home around one o'clock and pitched in to help with the cooking and setting the table. His guacamole was delicious and the green chilé dip was legendary —one part green chilé and to one part sour cream (plus only the Lord knew what spices he used, but coriander and fennel had been seen). His guacamole was almost as good with a few green chilés, finely diced red onion, and very little tomato plus more secret spices.
The old pine table he had built was in the dining room. It was spacious for five. He had built it to seat eight comfortably. After placing the golden yellow placemats with the hand-painted blue flax flower border, he set the table with hand-thrown cobalt blue stoneware, the sterling flatware, and blue Mexican glass.
Rachael made a beautiful pair of daffodil & tulip bouquets set into a matched pair of tin-lined copper vases from Turkey for the opposite ends of the old English sideboard. A low cut-glass vase filled with short-cut red tulips was in the center of the table with four single sterling candlesticks stationed evenly on both sides of the flowers. They were slim and tall enough to keep the flames out of your eyes when trying to hold a conversation and the tulips were low enough to see over comfortably.
The family enjoyed each other the rest of the day—working together and talking like the old friends they were. Now that Stones had matured, her friendship with her parents had really blossomed. Hulda was beside herself—having the whole pack home once again was wonderful for that old hound. Her tail did not stop wagging. It always did when she was happy. In fact, you could keep track of her mood by the speed and beat of her tail. She kept watching the floor for nibbles, but she had found nothing so far. Hope springs eternal though.
By six o'clock, they were sitting in the family room on the northwest corner of the house. This room was large with fifteen-inch pine-log vigas stretched across the ceiling from the east wall to the outside wall on the west side. The beams held up a rough-cut pine board ceiling. Jakob had discovered that it was difficult getting the logs for those traditional ceiling beams found in adobe homes. He had gotten his through his hacker, Bebe, from the Navajo lumbering operation in northeastern Arizona. Beams large enough to support a roof were now rare. It was so bad that the glitterati of Santa Fe were having them shipped in from outside the country. Most of the modern adobes had to put up with laminated beams (or God forbid, polyurethane foam covering steel).
The walls were plastered, over the sheetrock, and antiqued to a wonderful warm Tuscan look. The brick floor was mostly covered with a large deep red Persian rug. Next to the windows were several large pillows covered with old Turkish kilim fragments in patterns of deep reds and blues. The walls were covered with paintings, etchings, and watercolors—nothing famous, but nice stuff. They were all art showing landscapes, flowers, or buildings, either realistic or impressionistic.
At the south end of the room there was a large flat screen TV with two leather recliners and a couch covered in rich tapestry and throw pillows. The couch and the recliners were separated at both ends by a pair of antique Stickley-style end tables of dark oak with that wonderful patina of well-loved furniture. On the tables were two matching stained glass lamps. They were new reproductions but very elegant with their Art Nouveau styling and the warm tones of the glass. The Jacksons were seated at the other end of the room facing the window walls that faced north and west.
Outside the windows the vigas extended nearly four feet. They were covered with closely spaced latillas. Latillas are pine poles about three inches in diameter that are debarked and roughly shaved into consistency with a drawknife. They were a traditional Spanish method of producing shade around the old haciendas in the valley. They kept the family room in shade until the sun was down to fifteen degrees above the horizon. In the winter, they were removed and stored in the garage to allow for solar heating. Jakob had just put them back up the previous weekend.
Deb was lounging in her mother's chaise. She had changed to an ecru linen peasant blouse with short blousy sleeves and ruffles at the neck and sleeves plus a purple velvet broomstick skirt with those carefully bound pleats. She kept the deck shoes though. She was wearing a gorgeous silver concho belt that her parents had given her for college graduation. The conchos were hand stamped and covered with exquisitely detailed silverwork. There were so many of them that you could hardly see the hand-cut leather belt holding them all in position around her slim waist. There were a smaller set of matching conchos on posts on her ears and she had a double-strand treasure necklace around her neck with turquoise nuggets, real non-dyed red coral, and a couple dozen well-carved tiny animals called fetishes. Her jewelry was the envy of all her friends. There were real advantages in having a mother who had been collecting Indian jewelry since the early 1980s.
Jakob and Rachael were cuddled up in the red and tan tapestry love seat. Rachael had on one of her long dresses covered with large cabbage roses. She was wearing her large blue topaz earrings this evening on simple French wires. Her fingers were covered with silver and topaz including one rock that was nearly twenty carats of cushion-cut gem on the third finger of her right hand. Around her neck she wore a simple old pawn four-inch turquoise cross hanging on a necklace of hand-stamped silver beads that they had picked up for a song in Gallup when they had first arrived in New Mexico. Jakob was wearing one of L.L. Bean's short sleeve sport shirts in purple and his jeans. The coral in his silver cross was glowing at his neck. They all had glasses of iced tea on the end tables next to them. The home smelled deliciously of New Mexican cooking.
This close to the mountains, they were far above the Rio Grande valley. Out of the west windows, they were high enough to see over the six to twelve foot adobe wall that ringed the Jackson hacienda. Across the gravel road that ran outside the wall the Piñon, juniper, and cedar forest was still fairly thick. The tops of the fifteen feet tall trees were scattered every thirty to a hundred feet or so over the quickly leveling slope as the mountains transitioned to the high plains south of Albuquerque. The sun was setting over Mount Taylor this time of year in a low bank of clouds glowing red & orange below the rich blue sky.
Looking north back along the mountains, you could see the gate at the northern edge of the Jackson property. It was about a half mile to the gate. North of that a faint set of truck tracks could be seen winding through the trees. There was a shelf of rock all along the western edge of the Manzanos. It made the tire tracks almost invisible from the air. Jakob had enough connections to use this unmarked, little-known back road to drive into Sandia Lab when he was working on projects there.
While they sipped their tea in contentment, they discussed the general state of affairs: political, economic, and military. They were pretty sure they had all the solutions to the world's problems figured out. They were really enjoying each other's company. Deborah's presence had been rare recently. She'd been keeping herself busy up in town and around the state as she recovered. Jakob saw their guests first—as usual. "There's the cars," he said, getting up and offering his hand to Rachael. "I'll go stir the chilé pots and pour some iced tea for our guests. Dan might want a margarita—ask him for me."
Both women could see two black Escalades coming slowly south along the mountains. The lead car stopped near the gate and two suits got out. One carried a very serious looking combat assault rifle. Both were alert and scanning the area continuously. The apparently unarmed agent went forward to open the gate.
Rachael got up and checked herself in the large mirror with a worn gilt, baroque frame next to the ten-light glass door opening onto the covered walkway leading across the west edge of the interior courtyard toward the dining room on the south side of the house. Her lips were moving in prayer as she adjusted clothes and touched up her hair before heading for the front door. Deb stayed in the chaise enjoying the moment. The Jacksons and Aragóns were old friends and she wanted to give them a moment of peace before the bustle of the meal and the more serious questions.
After a few minutes of warm greetings, Rachael led them back to the family room with Hulda following, fanning the air with her tail. The detail had stayed outside. Hulda just stood in the doorway carefully watching the five of them to make sure nothing was wrong—a large goofy grin on her face. Satisfied, she went and jumped on the loveseat now vacated by those two who thought they actually owned the house. Jakob headed toward the back of the house to get them some tea.
The Aragóns were tickled to see Deborah, exclaimed over her beauty, hugs and kisses, and asking about her recovery. Stones was a little surprised they knew so much about it. It was probable that they both noticed the black eye, but the makeup was well done and they were very polite. Nancy Aragón was looking extremely well put together, as usual. She had on a dark green suit, simple modern gold jewelry, and shiny matching green three-inch heels with gold trim. The green and gold set off her delicate features and green eyes framed with that famous mane of right red hair.
The senator sniffed the air and proclaimed, "It smells wonderful in here. I must be home. We never smell this in Washington."
"It's just normal New Mexican cooking, nothing special," Rachael said with a large smile.
"You're too humble, Rachael. Remember, I've eaten your cooking before. Where'd the old coot go?"
"He's in the kitchen getting you some iced tea—sit down." She said, motioning them toward the comfortable leather recliners. They just looked like club chairs, and they were amazingly comfortable especially when reclined.
"Nope, I'd fall asleep in something that comfortable," the senator said heading for the couch.
The TV was showing Oreilly ranting about something while Dennis Miller smirked, off to the right of the screen. Deb sat down on the couch next to the senator as Jakob came into the room carrying two glasses of iced tea with a slice of lemon perched on the rim for his friends.
Rachael touched her friend's shoulder, "Nancy, why don't you come and talk while I sauté the meat for the burritos? We can catch up. I want to hear how the campaign is going and what's going on with President Worley."
Nancy went out through the courtyard with Rachael. Jakob took her seat on the recliner facing Senator Aragón on the far end of the couch. "Deb, can you get my drink off the table by the loveseat?" He smiled at her and started talking to his long-time friend. "So, Dannie, what's going on? How's the campaign?"
The senator was a tall, distinguished man with carefully styled silver hair, a craggy face with a ready smile, and strong grey eyes. He had taken the coat of his dark navy blue suit off and hung it on one of the short row of carved pegs next to the door of the family room. He loosened his deep maroon and blue striped tie, but that wasn't enough. He took it off with a sigh of relief. Next he took off the gold presidential cuff links that "Dubya" had given him several years back and dropped them into his shirt pocket.
Rolling up his sleeves he exclaimed. "The main thing is that I have to wear this straight jacket all the time! I don't think I'll ever get used to voluntarily putting my neck in a noose every day. I just do what my people tell me to do. The election committee has me booked solid until the election. All I want to know is when Nancy and I have a little time to relax—like tonight.
"We've really been looking forward to this. There's no way I am going to fill my mind trying to remember the schedule they have me on. I just came from Hyatt downtown. We're actually free until tomorrow afternoon. I told my people last month that we wanted a quiet evening with some old friends. I refused the dinner at the Hyatt—knowing I'd get better food out here with you.
"Great people, though! All anyone wanted to talk about is the flood of Mexicans across the border. Now that all four of the southwestern states have given them legal work papers for a simple request, we're talking about a mass migration. It's happening so fast that figures are hard to come by. But my best estimate is over 20,000,000 people into Texas, New Mexico, Arizona, and California alone in the past four years. We have no idea how many of these have ulterior motives.
"It seems hard to believe that Governor Richardson called the border a state of emergency only a decade and a half ago. Who would have thought that they'd simply open the borders? Now entire families are coming. At least we seem to be blocking many of the terrorists now that everyone has to produce good photo ID.
"From what I could tell, the problem is still growing. The state welfare systems are being completely overrun. Worse yet, my people are telling me that there is some evidence that a sizable group is getting false citizenship papers. Even if I can get elected and get some of the laws changed, we are facing somewhere around five million new citizens with seemingly legal papers."
"Other than the mess with the radically new culture, what's the problem with that?" Deb asked as she returned from the north end of the room and handed the iced tea to her father. Looking at the senator she asked, "Sure you wouldn't like anything stiffer?"
"No, thank you. I had two margaritas at the hotel. It's more relaxing just coming out to a normal home."
Debbie sat back down on the end of the couch next to her dad, kicking off her shoes and tucking her feet next to her bottom.
He resumed, "Actually, what we think is happening could be a real problem. We're keeping it all hush-hush until we know what is happening, but these are not simply fake papers." He looked at Jakob a moment, receiving a brisk nod of the head. Then he looked directly at Deborah, "This is supposed to be need-to-know. I'm including you so we can talk freely here tonight. But this is serious stuff—no leaks."
At her nod of agreement to cover her slight concern about what he knew about her, he continued, "Someone is hacking into the Immigration and Naturalization Service database and planting genuine records of citizenship. A man was caught in LA last week with no apparent history in the United States at all, yet he had a Social Security card and a New Mexico driver's license. The cards were new but the records checked out. INS records showed that he had been a citizen since 2003 and that he had received his Social Security number in the early 1990s. There were records of speeding violations in New Mexico in the mid 1990s. INS is convinced that something screwy is going on, but they can't find any proof. Whoever is doing this is slick. They're producing fully documented fake citizens."
Deborah moved the conversation on a little tangent, told him a little about the black trucks they had been seeing, and asked him if he knew anything. She didn't mention anything about the events of the previous night yet. He didn't need to know about that.
"Actually I do. I've seen a unsubstantiated report suggesting that Juan Dominguez from Chihuahua, the capital city of the state of Chihuahua, is sending soldiers up into New Mexico in those trucks. He was the leader of a large drug cartel until he got involved in Chihuahuan politics. At one time he was listed with the fifty richest people in the world. Recently he has completely changed focus. He has become the de facto ruler of Northern Mexico appointing the officials & controlling the elections. Most of the political leadership of the Chihuahuan state are loyal to him. He's had his devious little fingers in many pies recently. It's almost impossible to keep up with his actions and connections. The Chinese have invested an unbelievable amount of money in the state of Chihuahua, building several very large manufacturing plants to finish off Chinese products for final import into the United States."
"Have you been able to examine the drivers of these trucks as they cross the border?" Jakob asked.
"They are very careful. They appear to be normal law-abiding citizens. The few times they have been stopped, all their papers were in order. Some have green cards and jobs. Many are supposedly New Mexican citizens. We know something is going on, but we are not sure what. It's been very frustrating."
Deb thought for a minute, wondering what she should share. She looked at her dad, and he gave her a slight nod. So she said, "I think I got in a tangle with three of them last night. I mentioned to Dad that they seemed unusual. Their Spanish was different—not really an accent, but unusual phraseology. They pronounced several words differently. Plus, I noticed that their looks were… maybe carefully crafted is the best word. I'm pretty sure they weren't what they appeared to be."
The senator's eyebrows rose, "What do you mean carefully crafted?"
Deb continued. "I can't really say. They didn't look like the normal hard-working poor immigrants we get working construction around here. Their truck had to cost them $40,000 or maybe much more. My guess is the fancy Dodge Ram they were driving has a souped-up hemi to turn those fancy black-spoked rims. There wasn't an ounce of fat on any of them. Under the work clothes was solid muscle. One of them had a large gold chain around his neck, as I recall. But I was a little busy." She gave a little embarrassed giggle and a smile.
Jakob jumped in, "Stones was playing superhero, rescuing some Anglo who was getting beat up last night. She took on three of them and left them on the ground in the parking lot of the Wally World in Belen."
"You're kidding! I was wondering what happened to your eye." Daniel was clearly surprised. He knew something of Deborah's recent work for Ralph, but not much and nothing specific. He had assumed that the injuries in Pakistan had laid her low. He wouldn't have been surprised if Rachael had jumped into a fight. But then he had known her when she still worked black ops for the CIA. He'd known Rachael longer than he'd known Jakob and that was over thirty years. Then he smiled. "The apple doesn't fall far from the tree, does it?" He winked at Deborah. They all laughed.
Deb was blushing a little, "Mom showed me a few things as you know. I think that the shock of being jumped by a woman helped too. I didn't give them any time to think about it. It happened really fast."
"It always does," the senator looked at her closely and asked. "Are you all right?"
"Just a few bruises…" she smiled, pulling her skirt to her left knee far enough to reveal the scabs and show the bottom of one of the bruises. "…nothing serious. I was afraid I had killed at least one of them, but there was nothing on the news."
"No, I imagine not. If they belonged to El Patron, they would be too ashamed to be seen or ever admit they'd been bested by a female. I'll bet even their buddies don't know the sex of their attacker." The senator laughed. "The embarrassment of being beat by a woman would be hard to take."
Then the smile cut off, replaced by a look of dead seriousness. "If you killed one of them, you've made some bad enemies. I imagine some of their cohorts came by and helped them home."
"That's what Mom said."
"Your mother is a wise woman. We sure miss her around Washington."
"Oh no you don't!" Jakob broke in with a chuckle. "You jackals got enough of her hide back in the 70s and 80s. Besides, her sheep keep her busy. I know that she's got no interest in wetwork any more. The killing didn't bother her too much. It was her job and she was good at it. She was able to eliminate some real bad guys and save many American lives. What finally got to her was the lies and deception of Washington politics. It was at that point I was able to convince her to hang it up and get out. I couldn't stand the idea of losing her, but we didn't mention that until years later. You're not getting her back."
"I wasn't talking about that," Daniel protested, holding up both hands. "I just wish we could get her mind working to help us again."
Now Deb relaxed a little. It was clear that he knew nothing of Black Sail, so her cover was still secure.
Jakob continued, "That's why she quit—remember? It wasn't the killing, the danger, or even the incredible bureaucracy that ran her out. The problem was the lies. She was never comfortable with the lying. After she met the Lord she wasn't able to…"
Daniel stopped his friend with the two raised hands raised higher in surrender and a smile. "I give up. If I get elected, though, I am going to push her to head up the CIA."
"You can't do that. Not only would she probably turn you down, but I can't imagine the uproar over appointing a female pastor to run the CIA."
The three of them burst into laughter as Nancy came in from the kitchen announcing that dinner was served. When Deb told her what they were laughing about, the four of them went into the dining room chuckling. Hulda looked up from the loveseat, but decided there was no advantage to movement. Table scraps had never been allowed. So, she dropped her head down to go back to sleep.
But then she heard an unusual noise from the kitchen as Rachael brought the last of dinner in from there. There were strange voices at the back of the house. Hulda bolted from the chair and scooted through the dining room and through the mud room into the kitchen. As she rounded the corner she saw two large men seated at the breakfast nook. She decided that barking was not in order though. They had food. She put on her goofy smile and sashayed over to the table. One of the men looked down at her. "Well, who are you," he asked with a large smile. Hulda knew she had a live one and dropped her butt on the floor—her tail sweeping back and forth. She gave a gentle "rouf." The man smiled at her, "You want a little piece of tortilla?"
Back in the dining room the table was gorgeous, as usual. The rich wood glowed under the candlelight, as did the tulips. Rachael's fancy silverware sparkled. There were cream-colored linen napkins that had been carefully folded by Deborah to stand in the middle of the plates. The flowers on either side of the antique sideboard bracketed stoneware bowls of chilé sauce, sautéed chicken, shredded beef, and shredded cheese. Scattered around the table were smaller cobalt blue ceramic bowls of chopped onion, sour cream with chopped cilantro, black olives, Jakob's guacamole and dip, tostados, and a large covered tortilla warmer.
Senator Aragón just stood in the door taking it all in. "What a spread! You people are wonderful. This is just what we needed."
"Please, sit down." Rachael took the seat at the end toward the kitchen. Jake took the head of the table. Daniel sat to the right of Jakob with Nancy next to Rachael. Deborah got the other side to herself. Her job was passing the bowls. Silence descended after Jakob blessed the food and conversation. The food was too good to let words get in the way—not to mention the crudity of trying to talk with a full mouth of burrito. The wine was a nice, fruity Riesling from Ponderosa, New Mexico—up in the Jemez Mountains.
Nancy smiled at Rachael. "That was nice to feed the men."
Rachael chuckled. "A hungry agent is an unhappy agent. I didn't want them thinking about their stomachs instead of their jobs."
There was a general chuckle around the table that emerged between bites.
After about twenty minutes, Daniel leaned back in his chair took a swallow of wine and exclaimed, "Thank God! That was wonderful."
Rachael protested, "It's just normal stuff we threw together."
"Well it's not normal within the beltway." Nancy said. "I haven't had anything this good since we were here last time—and that was back before the holidays."
"It was really good, Mom. That chicken is marvelous."
Rachael looked down the table at Daniel and asked, "Well, how's the campaign going?"
"I'm getting really tired." The senator said. "The fun is out of it with President Worley slinging mud like he's building with adobe. That man can lie smoother than Slick Willie himself. Plus, all the rumors you've heard about the media are true. They are really a pain. We spend a ridiculous amount of time answering silly questions and attacks that are basically harassment. Now that the nomination seems to be in hand, I've been taking it easy and trying to rest for the big push at the convention in Hartford. I'm not looking forward to a convention in Worley's backyard."
"Please keep praying for him." Nancy interjected. "He's been getting almost daily threats on his life. I don't think we have nearly enough Secret Service protection, BUT we have to take what we're given…" The edge of panic in her voice was new though she had always been a worrier.
Daniel cut her off with a touch on her arm and a smile. "They know all this, honey. I suspect their prayers are part of what has gotten us this far with no actual attacks."
Turning toward Rachael, he continued, "Although ramping them up a bit wouldn't hurt over the next few days. After three speeches and meetings in Santa Fe tomorrow, I'm leaving there for California starting in Santa Monica mid-morning on Friday. La Raza has become the major spokes group for the Hispanic community and they are up at arms about my stance on closing the borders. The rest of the country loves it, but now that Anglos are a minority in the whole belt from Texas through California I have a lot of resistance down here. They like my Hispanic name, but my politics seem to make me a traitor to most of them. There will probably be trouble outside all the meetings here in the Southwest. Thankfully, I won't be back down here for a couple of months if plans stay the same."
Deborah jumped in, "Mentioning La Raza brings up a question I've been wanted to ask ever since you arrived. Is there any tie between La Raza and those soldiers we were talking about before dinner?"
"Yes and no, but I think there is. Actually, La Raza is the nice polite public PAC that everyone hears about. They have worked hard making a conscious effort to develop and maintain a good public image.
"For example, they fund and operate a string of excellent day care centers. Because they have a lot of financial support they are able to charge a lot less per week for excellent day care for the new immigrants and the rest of the Spanish community. However, the source of much of their funding is not clear. No one at this point has really spent much time or effort to find out. What we do know is that much of the leadership is involved with much more sinister groups. One of the worst is right here in Valencia County—Lupe Llano."
Deb was puzzled, "Should I be familiar with him?"
"Not really," the senator replied. "He has really kept a low profile so far. But we know he was trained by (or maybe he was doing the training of) El Patron's special forces in Chínipas down in the Sierra Madre mountains in the southwestern corner of the state of Chihuahua. As far as we can tell he was down there from 1999 until 2004, at least. There is some indication that he was even in Osama's camps in the early 1990s and quite possibly with Hamas for several years. We know he was a foreman of the work crews in the arms deals with China. They're trying to convince us that the deals are strictly for commerce, but the man we had embedded inside was sending out some scary reports before we lost contact.
"Our man worked under the man in charge, Colonel Pablo Santiana. Col. Santiana is Dominguez' main muscle in Chihuahua. He heads up the Jaguars de Aztlan. This is El Patron's Delta Force. But it's vicious and totally amoral. Actually, his force is far too large to be anything like our Special Forces. We think he might have as many 75,000 troops. And, they are well trained. We never see more than a couple thousand at a time, but occasionally the sightings are too far apart to allow for troop movements. We think they are just carefully orchestrated.
"Like I said, we lost track of Lupe around 2004, but recently he has been sighted in Andelito, south of Tomé. We're pretty sure he has bought that old ranch up in the foothills south of here at the end of those old developer roads east of Las Maravillas."
Jakob interjected, "You know, that could be where we see those lights occasionally, south of here. I just always thought it was some old hippie who never grew up doin' his back to the earth routine."
"Yeh, I imagine that's him. He tries to keep a really low profile, but we are keeping track of him. The nightly helicopters going back and forth to Alamogordo used to be mere training missions. But for about a year, they have been a covert surveillance op. The reports I've seen show that the ranch has developed quite a bit over the past decade. The actual ownership is real murky. It's as bad as some of those old Spanish land grants up north. They think there may be as many as a hundred people living up there. There's not much traffic on the roads, but a lot of it is trucks and vans that could hold a dozen or more people. We know Lupe lives there with Maria, who has an amazing reputation. How many more are there is anyone's guess."
Rachael asked, "What's he doing here?"
"At present, all of his energy seems to be in a large motorcycle shop just south of Tomé hill. They call it Ladrone Bikes or Ciclos de Ladrón. They build racing bikes for the pro motocross circuit plus normal custom Harleys. It's a very busy place. The garage is much larger than it needs to be, but no one has been able to get inside. From the air, it looks to be over thirty thousand square feet, plus it is tall enough to be two complete stories. It's actually busy 24 hours a day—though I suspect that's cover for the troops that Lupe probably has there. My friends in the FBI are trying to get an undercover agent in there, but I haven't heard anything concrete yet."
Rachael leaned over to her friend and touched Nancy's arm. Speaking quietly in her ear she said, "Not to change the subject, but remember when you told me to remind you?"
Nancy turned and smiled, "Yes, I told you to remind me if I got too hoighty-toighty in DC," talking full voice to get her husband's ear.
"Well, I don't think that's a problem. But the social life and style of dressing are much more formal on the east coast—especially in D.C. I'd suggest you tone it down a bit for tomorrow. You're dressed far too formal for New Mexico. You risk insulting the good people of Santa Fe. Remember, formality is an insult out here."
Daniel chuckled, "How easily we forget. We'll check each other over carefully tomorrow morning before we allow ourselves to be seen in public. Thanks for the warning. Well, I hate to say it but we better gather our escorts and head back down the mountain."
Nancy nodded in agreement, "Yes, I sure hate to leave your peaceful and lovely home. When I'm here I can always leave the stress and pressures behind. I wish we could stay longer."
"I certainly agree with that," Daniel added, "but it's been a long day. Thanks for the friendship and the wonderful food."
"We're glad you could join us. Can we pray with you before you go?" Rachael asked.
"Certainly!" Both of the Aragóns spoke in unison.
Jakob prayed.