Antidisestablishmentarianism: is it too late to disestablish our state religion?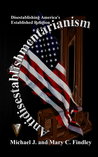 My rating: 5 of 5 stars
Mary gave me a copy of this book to review. It is the most exhaustive resource I have found for the history of our state religion. The quotes and footnotes are stunning. I had no idea Patrick Henry was such a cad. There is much more.
This book is not an easy read. That has nothing to do with the writing or layout. It's a simple fact because there is so much information. This has the best referenced history of the secular humanist rebellion I have read.
The problem, of course, is that this is our official state religion in the United States of the new millennium. I was surprised to find that the courts have actually ruled that to be the truth.
I didn't find it a particularly hopeful book, because it simply deals with the fact of our anti-God religion. As one who was duped by the public schools of the 1950s, this book hits me hard. The lies of society were the main reason I dropped out in the late 1960s. The results of those lies are seen in our modern self-centered, sin-driven culture of rebellion.
This book will give you all the ammunition you need to get yourself straightened out and those you know and love. I recommend you get it and read it–all 900+ pages of it. Just the footnotes are worth the price of the book. They worked hard and gave us their research. You need to read this book.