The saddest passage of scripture?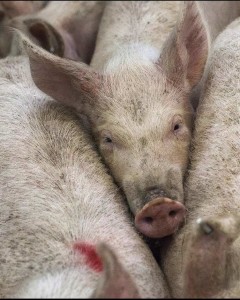 The saddest verses, that's probably overstating it for such a little incident, but not by much. You know the story.
And when he came to the other side, to the country of the Gadarenes, two demoniacs met him, coming out of the tombs, so fierce that no one could pass that way. And behold, they cried out, "What have you to do with us, O Son of God? Have you come here to torment us before the time?" Now a herd of many swine was feeding at some distance from them. And the demons begged him, "If you cast us out, send us away into the herd of swine." And he said to them, "Go." So they came out and went into the swine; and behold, the whole herd rushed down the steep bank into the sea, and perished in the waters. The herdsmen fled, and going into the city they told everything, and what had happened to the demoniacs. And behold, all the city came out to meet Jesus; and when they saw him, they begged him to leave their neighborhood. [Matthew 8: 28-34]
I suppose you think I'm upset about the dead pigs
Nope! Jesus was a Jew. Pigs are disgusting to them. What were pigs doing in a Jewish community anyway? Maybe it wasn't a Jewish community. But that has little to with my sadness.
They were so attached to the pigs, they rejected Jesus
They should have repented and turned to him. But no! They were so attached to their way of life, that they begged Jesus to leave. They are as bad as the despicable Esau, who sold his birthright for a bowl of soup. They didn't even notice the healed demoniacs. "Just don't you dare mess with my life!"
What do you have in your life that is not kosher, yet you are attached to the custom, act, practice, food, entertainment, or whatever? Most modern movies and many TV shows and series fall into this category. Even shows like Planet Earth by Discovery or NatGeo [whatever it was called and whoever did it] denigrate God, deny the truth, teach lies, and promote unbelief. Certainly you're not being asked to give up your notion that the universe is billions and billions of year old—are you? Is the violence of football really edifying? Will that fancy car really get you in bed with all those women [who do not belong to you anyway]? There's the whole concept of Victoria's Secrets. Why would you even consider looking at what they offer?
Please don't get to the place where you beg Jesus to leave…
Jesus is the only hope you have
Please follow and like us: