Review: Curse Bearer By Rebecca P. Minor [The Risen Age Archive #1]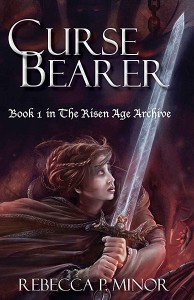 This is a very well done tale about a young woman, who is completely ignorant spiritually, violently oppressed by evil authorities, trying to save her father—who's basically a sorcerer. His incantations have backfired [though Danae doesn't know this] leaving him on the edge of death from a very strange and obviously lethal infection. She dabbles, but is completely unaware of the consequences.
She has to save her father
So off she goes, against incredible odds, dealing with all the things she thought were mere legend if they were known at all. Goblins, ogres, elves, and hellhounds—many of which are trying to kill her.
The world Rebecca built is convincing and compelling. Danae's character as well as the character of the other people in the tale are well and deeply drawn.
This is a fun read. I hardly put it down.