Christian book review: F. A.I.R.I.E.S.: Baptism By Fire by M C Pearson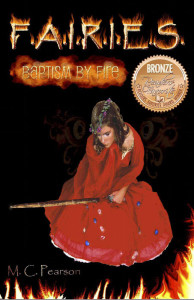 This book I'm almost embarrassed to admit I liked it as much as I did
I must admit I had a hard time taking this story seriously. But it held my interest well, and I really enjoyed it. It's a fantasy fairy tale of the Narnia ilk, but there's more obvious truth and a fair (though slightly distant) depiction of true Christianity. It's a 12-year-old girl brought in to save the day with every type of fantastic creature you've ever heard of—almost.
This one is fairly solidly at the evangelical level
But the Lord is a bit distant from humans. Evil is well rendered. The action is good. The characters are great fun. The dialog works.
So, what can I do but recommend it. It's not a great book. It's a very good book, quite entertaining. It's a solid addition to the Christian fantasy world.
And yes, it needs a much better cover….
Related articles