Christian dystopian speculative fiction: Keepers of Men by Eric Martindale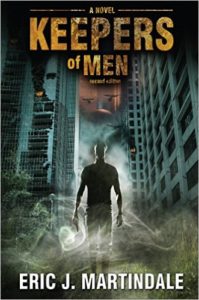 This was not a fun book to read for me. First, as old as I am, I would not survive. Second, the immediate future of "civilization" on the Earth in the USA will probably not be pretty. But then God has surprised us many times.
That being said, Eric has done a masterful job of depicting what could very well happen to the good ol' USA in the relatively near future. As a Marine, Eric's descriptions of the difficulties of surviving in such an environment have a stronger punch than many books of this ilk do.
I told Eric I didn't like the book, but I do acknowledge it is well done. It's just me—I tend to avoid depressing books. But I recognize there's a large readership for this type of book. If you like dystopian thrillers, this will do it for you.
The characters are well-done with gripping descriptions of surviving real horrors. The world-building is good and plausible.
The only real problem seems to be it's yet another Tate book with horrible editing. The book is littered with homonyms. It looks like spell check run amok.
If you like dystopian, you'll like this. It's a bit gritty, but very realistic.
[yasr_overall_rating size="large"]
Spiritually, it's 3-star
The good guys are Christian, but their beliefs are not really part of this book. You heathens don't need to worry about being preached at. So, it's Christian Religious Fiction.
Eric gave me a free review copy of the book with no strings. It's a good first novel.
[yasr_visitor_multiset setid=0]
Please follow and like us: