Peter gives a Spirit-Filled Award of Excellence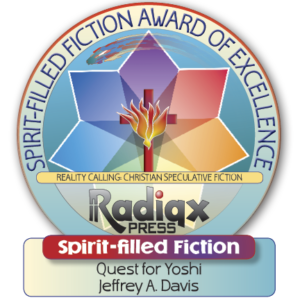 We look for level five [5-star Christian content] books which are very rare. Peter found another one and gave a Spirit-Filled Award of Excellence to Jeffrey A. Davis. It's exciting to have another book working for the Final Harvest.
Spirit-Filled Award of Excellence for A Quest for Yoshi
I don't have to tell you have rare it is for a series to realize its potential and conclude with a five-star spiritual read.
Book Review and Award: The Quest for Yoshi: Book Four of the Adventure Chronicles by Jeffrey Allen Davis. In this installment, Davis depicts more Biblical Truth and Biblical living. As a result, it takes this novel (and series ) to a higher spiritual level than Gateway to Thera. The read is very much worthy of the Spirit-Filled Fiction Award of Excellence.
The review of Christian fiction covering the genres of the supernatural, spiritual warfare, military, science… from CHRISTIANFICTIONREVIEWGURU.BLOGSPOT.COM
|
BY PETER YOUNGHUSBAND