The Domino Effect marginally Christian thriller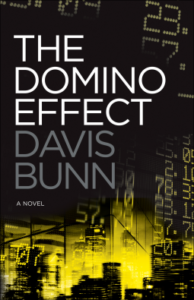 I shouldn't review it as the spiritual content is so marginal, but The Domino Effect will not be denied.  This is a superb book! Over the years, Davis Bunn has written several books which really touched me.
[yasr_overall_rating size="large"]
Davis' characters are unusually realistic and unique. I become deeply drawn into their lives, and care a lot what happens to them. His worlds are compelling though a bit short on description for my taste.
His stories are intricate, full of surprises, and a drawn to a satisfying conclusion. The good guys are more completely rendered, which is nice in this age of lawlessness.
The Domino Effect is an excellent tale
I've often wished for much stronger Christian content in Bunn's books. But, he is who he is, and at this point it is foolish to expect improvement —though one can pray and hope. This is just a clean read, but very good. I do pray Holy Spirit can get him radicalized. He would be a powerful witness.
When I first came across Bethany in the 1970s, it was the source of some of the best powerful Christian non-fiction. I hope they return to their first love, and bring their fiction to that level in time to help with the final harvest.
"But I say to you that for every idle word that men speak, they will give an account on the Day of Judgment. For by your words you will be justified, and by your words you will be condemned." Matthew 12:36-37
That's the danger with writing and publishing pure entertainment. The Domino Effect is very entertaining, but not much more. As we draw near to the end, this question becomes increasingly more urgent, "Am I doing what the Lord hopes I would do?" Helping with the final harvest is something to which all believers should aspire.
[yasr_visitor_multiset setid=0]
Please follow and like us: