Reader voting, visitors can now vote on the books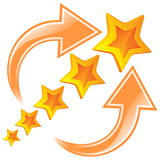 I think I finally figured out how to enable reader voting on the reviews and the books. Let me know if it is working better. I doubt any of the earlier reviews will allow it, but maybe.
I basically like the Yet Another Stars Rating plug-in. My other reviewers seem to find it too complex to use, but it does what I need. With the new update, I am now able to allow you to vote.
[yasr_visitor_votes size="large"]
Maybe no reader voting yet?
Let me know. My hope is to get more feedback for the authors.
As we get more involved in reading, reviewing, and commenting, the author gets more feedback. Hopefully this will also give the book more exposure. All I know to do is to keep adding little things until this blog becomes truly useful.