Prophetic season following Jesus marketing our books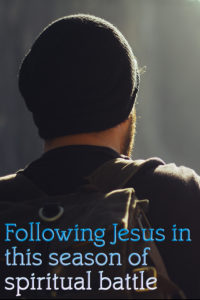 So, we start with prayer in this prophetic season following Jesus. But what is the Biblical basis for this? The following excerpt is from a marketing booklet on which I'm working:
---
Yes, I've already mentioned this. What is our prayer? "Lord, sell my book!" Maybe a little. But the Lord would have you be involved in a larger part of your marketing than that. There are things He wants you to do. There are people you need to touch and influence. His main focus is building your character, pruning, and shaping so you can be more fruitful. Your readers need what you are offering. Only by following His lead will you find them. [added, ed. In this prophetic season following Jesus it's likely He has something specific He wants you to write.]
Your goal in prayer is to find out what He sees in your book. You need to see and understand what His vision is. It really doesn't matter what you think. What He thinks counts. We must clean up our own lives to be fruitful.
For who can know the Lord's thoughts? Who knows enough to teach him? But we understand these things, for we have the mind of Christ. [I Corinthians 2:16 NLT]
We have the sure word of scripture that we have the mind of the Messiah. But God made this a walk of faith, not sight. Nevertheless he'll show us what He is doing and where he is headed—if we ask him.
No longer do I call you slaves, for the slave does not know what his master is doing; but I have called you friends, for all things that I have heard from My Father I have made known to you. [John 15:15 NASB]
---
In this prophetic season following Jesus
We need to seek His face and discover where he is leading each of us individually. This is a season where the spiritual warfare for America became visible. What is your response?
---
But you know the way it works. You need to ask for wisdom. James tells us that. You need to understand what Jesus was saying to us when He said,
"I tell you the truth, the Son can do nothing by himself. He does only what he sees the Father doing. Whatever the Father does, the Son also does." [John 5:19 NLT]
If that was true for Him, the man and god who showed us how to walk in the Spirit, it is certainly true for us. There was a real reason Jesus went out alone before dawn to talk things over with Dad. He needed to know what the Father was doing and how he (Jesus) should proceed in the coming day. I do too, and so do you.
You need to fit these questions in with your daily walk. My basic question in the morning is, "What are we doing today, Lord?" "What should I do first?" At least that's the basic question when I am doing what I need to be doing and seeking His face first every morning.
This is all about the normal Christian life. Our writing is part of the life, and we are doing it because He has asked us to do it. If not, our writing may well be merely self-help and cathartic therapy. There's nothing wrong with that, but it may also be true that the Lord does not want you sharing that stuff with other people.
Please follow and like us: