Setting our mind within Messiah is satisfaction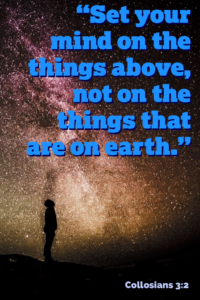 The longer I live the more I see that setting our mind within Messiah is our hope of joy, peace, and contentment. This is where we are born to be, into what our birth from above places us. After our rebirth, we will be satisfied with nothing less.
No wonder we live our lives in unknown longings. Seeking satisfaction, but not acknowledging how radically we have changed. As usual, Paul gives us direction:
"Set your affection on things above, not on things on earth. For you are dead, and your life is hidden with Christ in God." ‭‭Colossians‬ ‭3:2-3‬ ‭MEV‬
We are not who we were, even though it looks like it and feels like it. We don't lose our senses or our minds. We enter a whole new realm of the Spirit, which can only be seen by the traces it leaves in our flesh and soul. As Jesus put it:
"The wind blows where it wishes, and you hear its sound, but you do not know where it comes from or where it goes. So it is with everyone who is born of the Spirit." ‭‭John‬ ‭3:8‬ ‭MEV‬‬
Setting our mind within Messiah brings clarity
It's a choice we each make individually, and consciously. Like all in the Kingdom, Jesus has provided us with everything but we must accept it. One of the most important understandings is our death. Going back to Paul we read:
"Do you not know that we who were baptized into Jesus Christ were baptized into His death? Therefore we were buried with Him by baptism into death, that just as Christ was raised up from the dead by the glory of the Father, even so we also should walk in newness of life. For if we have been united with Him in the likeness of His death, so shall we also be united with Him in the likeness of His resurrection, knowing this, that our old man has been crucified with Him, so that the body of sin might be destroyed, and we should no longer be slaves to sin. For the one who has died is freed from sin." Romans‬ ‭6:3-7‬ ‭MEV‬
A little later we read:
"Likewise, you also consider yourselves to be dead to sin, but alive to God through Jesus Christ our Lord." ‭‭Romans‬ ‭6:11‬ ‭MEV‬‬
In the evening of January 15, 1974, before they laid hands on me, before they asked me if I wanted to accept Jesus as who He said He was, they asked me to renounce the world, the flesh, and the devil. They told me I was renouncing my life as it was, so that I could receive new life in Him. Then they laid hands on me to receive the Holy Spirit for the power to enable this to take place.
No, I am not saying this is the norm. But, my earthly father knew the life I'd been living. He knew of my occultic explorations. And, he understood the stronghold the enemy had built in my mind by the openings I had given with the drugs and the occult practices.
So, this covered it all, right?
No, this enabled the Lord to get ahold of me, with my often confused cooperation. It took nearly six months to accept my death as reality, to "consider myself to be dead". But, by June it was a reality of faith in my new place within the Messiah, the Kingdom of God.
Only now, nearly 43 years later, am I beginning to comprehend the wonders of what Jesus did for each one of us. Setting our mind within Messiah is a major step in our walk of faith. Accepting how radically  our new creation changed us is essential in our walk of faith.
If you've not made this faith transaction yet, get with it! You will enter a realm of wonder from which you'll never desire to escape. Jesus is indeed an amazing King…soon to be revealed in all His Glory.