Hearing Messiah's Voice brings reality to your walk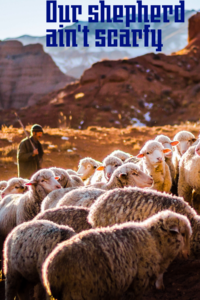 The normal Christian life centers on Hearing Messiah's Voice. One of largest areas of damage during the Great Falling Away shows in the scarcity of teaching about hearing the Lord. In my reading today, I was stopped by the Lord in the beginning of John 10:
"But he who enters by the door is the shepherd of the sheep. To him the doorkeeper opens, and the sheep hear his voice. He calls his own sheep by name, and he leads them out. When he brings out his own sheep, he goes before them. And the sheep follow him, for they know his voice."
‭‭John‬ ‭10:2-4‬ ‭MEV‬‬
Jesus changed the parable because He could see they just didn't have a clue about what He was saying. Now that we have the Holy Spirit, He reveals the meaning. Remember, even the Twelve did not have the Holy Spirit within them. We don't know how much the "born from above" new creation phenomenon affected them. Without the Holy Spirit within the new creation remains powerless. Only after Pentecost were they empowered to live as normal believers.
Hearing Messiah's Voice is not optional
Contrary to Joyce's rant on The View, hearing the Lord defines the  Christian. It reveals sanity and the touch of reality upon the believer's life. Hearing the Lord demonstrates the core of the walk in the Spirit. I've written books on the topic, The Wife of Jesus being one of the most recent.
We hear His voice and follow Him, learning to know Him as we walk with Him. We talk with the Lord in prayer. Because true prayer means dialogue…talking back and forth with the Messiah to whom we are betrothed. And! We've barely begun.
In Heaven, we'll know as we are known. Sounds like telepathy and beyond to me.
Are you building that relationship?
Please follow and like us: