Life turns vanity into Faith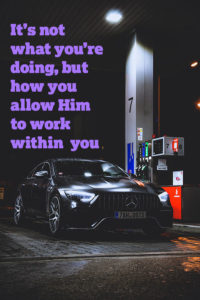 We must understand that Life turns vanity into Faith and that's all that matters. Without Faith, I can't please God. Without God, I'm dead in my sin. Think Hell.
Of course, that all sounds very simple. It is. Yet, it's not possible without Jesus. He told us that in John 15. We place our faith in Him. We trust Him to save us, to transform us, to make us holy and righteous. He does the hard work as we allow Him free rein in our lives.
Life turns vanity into Faith with the cross
This always remains the core of the Gospel—the cross. Jesus told us to take up our cross daily. Every day He'll give us opportunities to die. That old fleshly soulish person must be allowed to die so that true Life can flow through us.
What it really means is found in our daily walk in the Lord. There we give Him the authority to do what's necessary to recreate us in His likeness. Jesus is always the perfect servant. He doesn't take authority. We give it to Him. If we don't, we don't belong to Him. If we do, He comes to live in us by His Holy Spirit.
Our task remains: accept His rule and give Him full authority to clean us out, transform us, recreate us in His image.
Though it's simple, it's never easy
Our life, no matter what we are called to do, always presents us with decisions to make. When we decide to do as Jesus wants, we then allow Him to get rid of the crap in our thoughts, emotions, feelings, and desires. Left to our own devices we always choose self-gratification. But in Him, with Him in us, Life turns vanity into Faith as He works.
It's always about Jesus. He enables our transformation. It's something He does. But, being a kind loving gentleman, He won't do any of that until we ask—until we give Him permission.
Give Him permission to change us—trust Him to do it
Please follow and like us: