Watch and pray you are counted worthy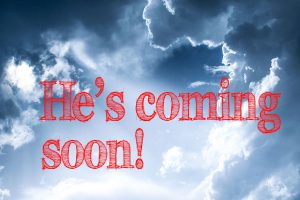 "Therefore watch always and pray that you may be counted worthy to escape all these things that will happen and to stand before the Son of Man."Luke 21:36 MEV Scripture doesn't say that without watching and praying you'll miss the rapture—but it is certainly implied. Even the writer of Hebrews says this: "so Christ was offered once to bear the sins of many, and He will appear a second time, not to bear sin but to save those who eagerly wait for Him."Hebrews 9:28 MEV
Watch & pray you are counted worthy
Paul in I Thessalonians 1:10 tells us "to wait for His Son from heaven, whom He raised from the dead—Jesus, who delivered us from the wrath to come." I don't know about you, but I want miss that. Very early in the wrath of God 25% of mankind is dead. And, that's before tthe massive earthquake of Revelation 6. Isaiah 24:6 tells us that few men will be left. I remember Hal Lindsey adding it up on evening. I'm not sure of the final figure, but I think it was 50,000,000 left when the Lord comes back.
"There shall be on every high mountain and on every high hill rivers and streams of waters in the day of the great slaughter, when the towers fall." in. Isaiah 30:25 MEV It's described as the day the towers fall. Is that minarets or skyscrapers? We don't know for sure. But, we're talking about the mountains being laid low and valleys lifted up. Jerusalem is to become the tallest mountain on earth.
Evidently, the earth will be radically remodeled—as it was after the flood. So, it's imperative that we watch and pray we are counted worthy to escape the wrath. It's probably true that if we're not watching and eagerly awaiting for His mighty shout to come to Him, we'll not hear Him and have to live through the wrath—at least until we die from it, or we're killed by the prophet or the antichrist.
Look up! For our redemptions is drawing near
Therefore you also must be ready, for in an hour when you least expect, the Son of Man is coming. Matthew 24:44 MEV