Sharing trials through your characters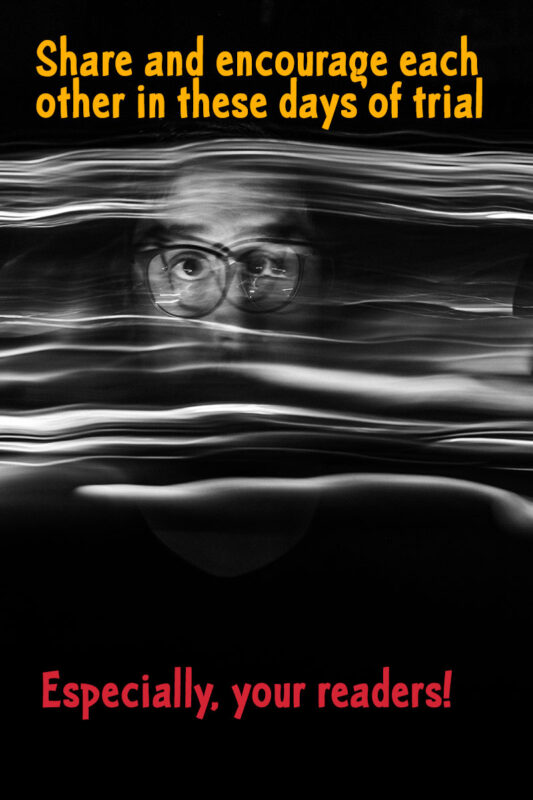 Sharing trials through your characters is one of the strategies you should be using as you write your stories while the age of the Gentiles comes to a close. This is the beginning of the time of the great shaking. All of us are going through it.
If you are not under trial these days, then you need to go to the Lord and ask, "Why not?" As the writer of Hebrews told us, "If you are left without discipline, in which all have participated, then you are illegitimate children and not sons." So, if you're not, there's something wrong with your walk.
It's not like it's a big deal. It's the final flailings of a deleted foe, but have no doubt, the Creep is taking every shot he's got because he's aware that the day is drawing near. Your need to learn how to walk in peace and joy through the midst of the trials.
Sharing trials through your characters is our work in fiction today
Believe it. As believers, our fiction must be sharing Truth. You need to ask the Lord how you are to do that in the tales you are working on so hard. Have your characters find peace and joy in the midst of trials. That's what you're doing, or… There is no or. If you are not, then you're among those sliding into apostasy.
Remember the world thinks they're entering the new time of enlightenment. The entire world system is working to make sure the people do not see what is really happening. What is happening is that all sinners will be killed during the tribulation. The rapture will happen in such a way that the world system will not recognize it, or they will have a solid explanation.
Remember, we're going to be out of here so fast that the enemy will not have time to even start to react. A twinkling of an eye, for all practical purposes, is instantaneous. I'll see you there—or not…