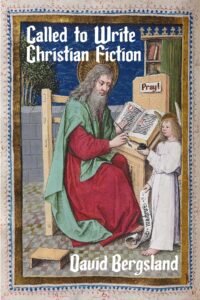 Called to Write Christian Fiction is a free PDF discussing the seriousness of God's call on your life. Christian fiction has gotten a bad name over the recent decades, for many good reasons. But the enemy's attacks merely show how important this calling is.
This fifty page book takes a look at that to which the Lord has called you. I didn't mention it in the book, but in most cases, it's actually a subset of the Teacher office Paul mentions in Ephesians 4:11-12— "He gave some to be apostles, prophets, evangelists, pastors, and teachers, for the equipping of the saints, for the work of service, and for the building up of the body of Christ, " MEV
Yes, I am convinced that's true whether you are writing non-fiction or fiction. If you are a member of the Body of Christ, everything you do is part of the work he has called you to do. Unless, of course, it's something of which you need to repent.
We no longer belong to ourselves. Part of the deal is that we have presented ourselves as living sacrifices, as our spiritual worship. I volunteered to be His servant. As a believer, this is what we are all called to do. Once we have transacted that business, it is common for the Lord to call us to something specific. We were designed to be a unique member of the Bride. All of our calls are unique. But, make no mistake, the call the Lord gives to you is important.
Called to Write Christian Fiction are you? Excellent!
This book will cover some territory which will help you refine your call. You have some training which is necessary. Determining your call is merely the first step on the journey. It's an exciting thing, a path of joy, away of discipline, a source of wisdom, knowledge, and maturity. If you allow that to take place, that is.