Review: The Risen Spear, The Vergrinn Wars Book 1 by Scott Biddle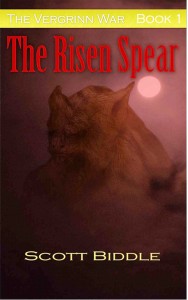 Here's a fantasy: a swords and sorcery book of warfare that's fun to read. Written by a Christian, this is not a Christian book though the good guys are moral, of good character, and the action is all clean. It is directed at teens and done very well. Would that youth groups would so teach their young men. We need spiritual warriors with this calibre of service to others. In fact, we need them badly.
The Vergrinn are a nasty enemy
These are lupine warriors of strength and cunning who walk on two legs, have a language, and are capable of effective, surprising strategy. The Vergrinn come as a real shock to the World of Alarr who believed them long dead and gone—only vague memories and the stuff of ancient tales.
The world is basically medieval with some magic tossed in gently. This is a "manly" book of warfare, heroes, and saving the kingdom. The character of the warriors is foremost. The leadership is concerned with that type of development as they face an enemy who looks virtually unbeatable.
But there's an old prophecy, and a father with surprising knowledge, but I'm not going to spoil the story. You'll like it. There doesn't seem to be any romance here—maybe in books 2 & 3?
Please follow and like us: