Review: Redeeming Grace, Redemption Tales #3 by George McVey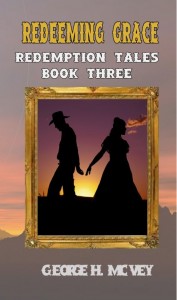 This book is the best of the three. I miss New Mexico, and I'm growing partial to westerns because of this series [and Zane Grey, of course]. I'm sad I got a pre-release copy with a lot of production flaws, but I must assume they're ironed out by now.
Nathan is a preacher/marshall/gunslinger
Yup, he is. More than that he's a believable believer with a real heart for the Lord. His wife, Grace, is a fitting mate, a joy to behold, and wise beyond her years.
This is a fun read. I don't want to spoil it for you. There are many twists, setbacks, and severe danger from within the church. His conflict with his father had me thinking homicidal thoughts.
This is a man the Lord uses who is a true inspiration. I wish he was my friend.
Other than that, don't miss this series. Start with Redeeming Reputation, then move on to Redeeming Trail, you'll be pleased you did.
The Redemption Tales are the real deal
Fun, exciting, edifying, and a joy to read. It's hard to wait for the next one.