Christian Book Review: Storm Chase by K. M. Carroll Three Stars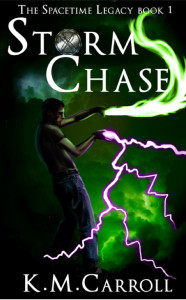 OK! Before I get jumped by everyone who loves this book, let me remind you of the focus of this blog. My purpose is to review the level of Christian content.
An imagination & world building tour de force
This is a unique world with a lot of excitement, danger, heroes, heroines, villains, and all the rest. Oh yes, & magic! Lots of magic. Ms. Carroll has made this world come alive with great characters and all the rest of a polished story—very well done.
So, what's my problem? It's yet another Godless universe [multiverse in this case]
The world of the book is amazingly complex and multi-layered. But, it's Godless. The hero is yet another of those reluctant saviors who are forced by circumstances to save the world—even though they have no idea how to do so. This book doesn't even have the usual supernatural leading of God's Spirit to show him and him and her and her how to save the world. They just figure it out, pull themselves up by their own bootstraps, and save the multiverse.
Bah! Humbug!
It's a sad commentary on our culture today that this type of story is told by believers as well as the heathen. Actually, the heathen books are usually more religious than the Christian ones. It makes me want to cry.