Christian book review: The Enclave by Karen Hancock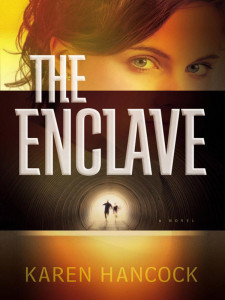 This is yet another excellent book by Karen. It is typical mainline Christian publishing—Bethany House for this one. That now assures us that there will be nothing radical as far as the belief structure is concerned.
It's hard to call this one an exceptional story
It does have compellingly interesting characters. The bad guys are a bit too stereotypical to be terrifying. But they are interesting nonetheless. Cloning is one of the new bad guys. It's acceptable to hate them [not really].
The story does have a nice little touch of romance. The good guys win. All the pieces are there, character arcs, plot, language, clean, nice, almost boring. It does have excitement, but there is no praise or worship. It's just a nice, fairly predictable modern Christian urban thriller.
I guess I'm expected to say it's evangelical
But it's not. There are no real radical rebirth conversions. The relationships with the Lord are there and spelled out well, but there's no real intimacy with the Lord. I just don't believe there's much going on spiritually. Christianity is a decision you make, not a radical transformation and transfer out of the world into the Kingdom. Am I being too critical/ Maybe. But there's nothing edifying. It's too predictable.
The only real question dealt with is, "Do clones have souls?" The book's answer, probably—but there's no Biblical reasoning given. It's in the same class as the "love is all that matters" argument for homosexual marriage.
Sad to say—I've read it all before and I'm not impressed. Especially with a writer like Karen Hancock. I expect more from her. But I imagine that will not be forthcoming unless she goes independent and breaks the shackles of traditional publishing editorship. While the book is good and there's nothing wrong with it, it could be so much better in showing the reality of a true Christian walk in the modern world.
Give us some meat next time, Karen! Show us some real walking in the Holy Spirit, please.
Related articles