Christian book review: Chasing Redemption by Bruce Fottler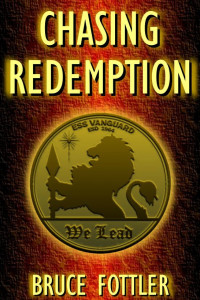 An excellent military thriller set in space, i.e. a Christian science fiction read.
I wouldn't call it excellent Christian fiction
I see it as very good science fiction with some Christian characters. There's certainly nothing wrong with that, and I recommend the book. There is certainly nothing wrong with good, clean fiction written by Christian authors. Bruce has definite Christian characters strewn throughout this story. The story is much better because of it. But it is not the type of book I am looking for. It's what I read when I do not have a good Christian fantasy or science fiction story.
For the spiritual level, it is better than just Old Testament. It's not evangelical. I'm guessing, but I would say it is probably the output of a truly believing mainline protestant. Since that is where I started, so many years ago, it was comfortable spiritually. But this is not primarily a spiritual book. This is a military book
This is a military thriller set in space in the future
It feels like a Dale Brown book with a bit of W.E.B. Griffith. It's an exciting thriller. The technology is not nearly as plausible as a Dale Brown. The military mind is not nearly so well developed as W.E.B. does it. It's a fairly standard Navy thriller using space ships instead of boats in space instead of on the Earth.
If you like that type of book, this is a very good example. The characters are very interesting a well developed. The relationships are well built. The conspiracy behind everything is never fully revealed, but the hero saves the day and there is a reasonable hope that he'll get the girl in righteousness.
Related articles