Christian book review: Seek And Hide by Amanda G. Stevens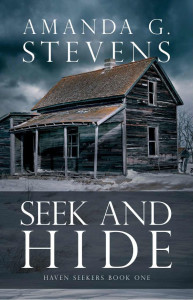 Official blurb: Six years ago, the government took control of the church. Only re-translated Bibles are legal, and a specialized agency called the Constabulary enforces this and other regulations. Marcus Brenner, a new Christian, will do anything to protect his church family from imprisonment–including risk his own freedom to gain the trust of a government agent.

Aubrey Weston recanted her faith when the Constabulary threatened her baby. Now released, she just wants to provide for her son and avoid government notice. But she's targeted again, and this time, her baby is taken into custody. If only she'd never denied Him, maybe God would hear her pleas for help.

When Aubrey and Marcus's lives collide, they are forced to confront the lies they believe about themselves. And God is about to grab hold of Marcus's life in a way he'd never expect, turning a loner into a leader.
I really tried to like it
But it was so painful! All the self-inflicted agony really got to me. Amanda really gets into the characters. They are well developed. But I just wanted to smack them upside the head. They so badly needed good teaching and the power of the Holy Spirit. This is obviously supposed to be a Christian book, but the Lord in this book has no real power. The characters are so determined to be in pain. Of course, they succeed. The Lord will never override your will.
If you like emotionally devastated people struggling without much hope, this book is for you
The characters are well done. You get into their heads. They could be likable and sometimes succeed. Most of the reviews are five star with comments like, the characters are so real! I'd agree with that assessment, but they are a non-biblically justified mess. Most of the time I just wanted to grab them, shake them, and tell them to get a grip. The rest of the time, I wanted to tell them how simple it would be to find peace. Salvation and healing is available to them, but it never arrives. I still haven't recovered from this one, even though I finished it three days ago. It's a lot of pain, realistic, but unnecessary. Not entertaining.