Christian mystery: The Woman In Blue by David G. Johnson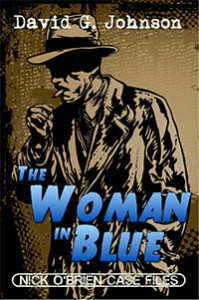 OK, I don't like mysteries much. Noir mysteries a bit less… But I like David G. Johnson's writings. So, I gave it a shot. If you like noir mysteries, you'll like this one.
As expected, an excellent book. Did I like it? Naw, a bit dark fo'me, plus it's a mystery. Here's the blurb:
"Ever try finding a virtuous man in the Big Apple circa 1930s? A fool's errand, right?
"Well, Nick O'Brien is no fool. The war vet and former cop turned in his badge and then turned his back on the crooked criminal justice system. He's got a new mission: to be that good man in a bad city. With honesty and compassion, Nick hangs out the shingle of his own private detective agency to aid the victims of evil. He's out to crush corruption, case by case.
"When a mysterious beauty with a missing brother seeks his services, Nick finds himself working a real onion of a mystery, with each layer peeling away to reveal deeper levels of darkness, deception, and murder. No matter how deep he has to go, Nick will find out the truth and solve the enigma of The Woman in Blue."
No spoilers here. There are many twists, a fair amount of action, copious amounts of antique jargon, and a satisfying mystery to those who like that sort of thing.
Realistic religious spirituality
I was a bit disappointed that Nick is only a typical-for-the-times, nominal believer, Irish Catholic. Spiritual truth is not a large part of this story and I knew that going in. It's basically clean, but a little rough around the edges. It's certainly not edifying or anything spiritually useful. But I understand that David needed to get this book out of his system.
He did a very good job. As far as I can tell he did an excellent job of nailing the genre.