Political/military thriller: Counterfeit Lies by Oliver North and Bob Hamer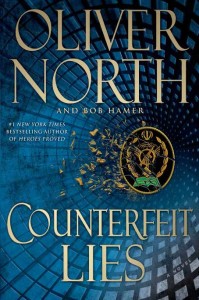 Political/military thrillers don't get much better than this. I always loved reading this type of book because of the information about the world around me. I like books by authors who've been there and who can give me knowledge of which I wasn't aware.
If the insights about North Korea are accurate, 'tis scary
I suspect they are. A criminal enterprise with a global reach and virtually unlimited finds, Pyongyang is the center of a true force for evil in our world. As a believer, it's exciting to watch as we see evil exposed around the world. It's all aligning Biblically, where NK is just a minor supplier of parts for the forces of the Antichrist yet to be revealed. We don't know how close that is, but the blatancy of the enemy is remarkable. It suggests the great news of the millennium: Jesus really is coming soon. The King is Coming! Look up!
The undercover realities are exceptional.
I have no idea how a person can live in the midst of such lying, betrayal, and nastiness. Hamer bring a reality to the undercover operator world which is very believable. The North Korean criminal world certainly seems real. They're not nice…and of course Hezbollah is what they are—a real class act. Disgusting, but the good guys win. yeah! The story is great fun in a worldly way (and that's a bit sad). Here's the blurb:
The explosive new thriller from Oliver North, who stormed bestseller lists nationwide with his disarmingly authentic military novel Heroes Proved, is a gripping, non-stop tale that could only be written by someone who has "been there, done that."

Veteran undercover FBI agent Jake Kruse is investigating a smuggling ring in southern California when his assignment is cut short. A prominent criminal defense attorney wants to hire Jake on another kind of mission: to kill the daughter of a local crime boss.

What began as a "contract killing" soon captures the attention of the CIA, the U.S. Secret Service, and high-level officials in Washington. The undercover agent is plunged into a deadly underworld of North Korean espionage, Hezbollah terror and the sinister deception Iran uses to acquire nuclear weapons. Caught in a web of international intrigue that goes to the top of the U.S. government, Kruse is forced to confront the ultimate moral quandary: doing what's right when everything seems wrong.

His New York Times bestseller Heroes Proved was praised by Sean Hannity as "a heart-thumping 'must-read' for every American" and as "inspiring truth in the form of a novel" by U.S. Army Lieutenant General William "Jerry" Boykin, a founding member of Delta Force.

Now, national security expert and decorated war hero Oliver North and former U.S. Marine and FBI undercover agent Bob Hamer bring their real-life experience to this pulse-pounding tale of international intrigue and down-to-the-wire suspense. They say it's fiction. But it's all too real.
It's all accurate as a hook to get you to read the book. But as usual, we must read between the lines. It is all too real, BUT…….
I started reading Ollie's books because of the Christian lives of many of the characters.
You'll notice I didn't put Christian thriller in the title of this post. It's not. There's a little bit of evidence that the lead character is a believer of some sort, but certainly not enough to convict him. This book is not Christian in any sense. There is a sense that God is blessing Jake, but it's not realistically done. There is no other "Christian" character.
This is a story of the good guys fighting the bad guys with everyone using the same tools of the trade, similar morals, and only a hope that the good guys are smart enough to beat the bad ones. Both sides are disgusted by the "evil, nasty" guys. What a world the Creep has developed to deceive us. It's fascinating but far outside the suggestion that we think upon whatever is good, lovely, and true that Paul presents in Philippians 4.
So, it's 5-star entertainment with 1-star spiritual content
It's definitely adult fiction, but no blatant sex, foul language, or overly graphic violence. It may even be CBA acceptable. This is why I've turned to reading only Christian fiction—if I can find enough good stuff to feed my habit. I enjoyed the read, but that only shows how far I have yet to go in my walk to reach holiness and righteousness. Praise Jesus for His work and promises.