#christianscifi fantasy book review: The Jammer & The Blade by DJ Edwardson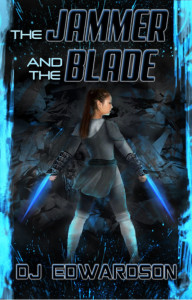 New author, for me anyway, who writes a fine tale: The Jammer and the Blade

The question is who is he or she? I don't have a clue beyond writerly cleverness—piff. To quote, "DJ Edwardson lives on the blank pages at the end of books. You always wondered why they were there. Now you know.
"Other than his title as the grand master chef of all things cereal he does not have any accolades to boast of. A typical day for him goes something like this: he does adverb crunches in the morning, runs sprints down Grammar Street in the afternoons, and then goes for target practice at the Passive Voice Range just before dinner. Oh, and he does like to read on those rare occasions when he's not grammarcising. J.R.R. Tolkien and C.S. Lewis are the two writers he enjoys the most. He likes to think that authors who use their initials are better writers but he can't actually prove it."
Yea, it's clever, but you know how far that goes when you've been around seven decades. I'm suspecting a chubby, short mom of three teens living in the dangerous wilds of Delaware. But it's not important. It's another novella, but at least it's long enough for a 3-4 hour read. The quibbles are completed.
The book is quite good,  or better
The world-building is well-done and convincing. There's lots of technology within a warfare of cultures which seems pretty Dark Ages, almost Crusaderesque (ha, find that one spell checker). It feels dystopian, but the world is not recognizable. It's also a lot like swords and sorcery, but the bad guys are not spiritual, just nasty sinner technocrats. The heroine is admirable, enjoyable, and believable. She's in way over her head as a hired blade, but you know I hate spoiling stories.
The bad guys are nasty, evil, self-serving liars—and they are relatively believable also. Who's fighting whom is a bit tricky, but then everyone is fighting everyone—no loyalties, no redeeming merit even though individual bad actors are compelling.
Spiritually, Old Testament and a bit more
Her father is of the Old Faith serving Adonai. It feels like some truth is hiding there, but nothing Christian. In other words, the tale is more Tolkien than Lewis. It's definitely not a heathen book, though. The good guys know the Lord, as it is in reality.
This book is worth your read and fun. The ending leaves us hanging and much is not resolved. So, I'm expecting more in this world. I hope so. Three full novels would be really fun.
DJ also has a full novel (looks like scifi dystopian) which looks interesting: Into the Vast (The Chronotrace Sequence Book 1)