Lyric fantasy book review: The Visitor by W.G. Reece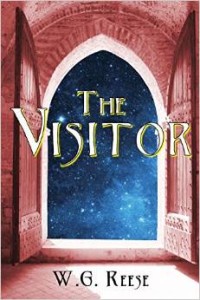 Those who know me know what is coming. I really dislike lyric, allegorical fantasy of the Anne Elisabeth Stengl type. I think this type of book should be a separate genre. But that's just me.
The Visitor is a lyric, allegorical fantasy written by a Christian
I was given a copy in return for a review. I told the publisher what my reaction was and got the go-ahead to write it. I couldn't finish it. I guess I'm just dumb, but I simply couldn't figure the story out—even after nearly 200 pages of the 272 page book.
The good guys and gals seem to be clueless. You really can't even tell they are good, for there are very few indicators of godly character. The god-like characters play with time (or time plays with them). They don't seem to understand what is going on either—outside of their assigned roles. I couldn't get a handle on them at all, except some were good, some were bad. Some die and go to a good place, some go the other way. But there is no evidence of a Savior in the first 200 pages, at least.
The bad guys are stereotypical, almost camp. But I couldn't get involved enough with them to even chuckle—let alone hate them. In fact, I found it impossible to get involved with any of the characters or the worlds they inhabit. Believe me I tried. I wanted to enjoy the book. But there was no Truth in it.
The spiritual level
The basic difficulty is that even though I was told this is a Christian metaphor, I could find no evidence of that. Like I said, there is no Savior—the basic requirement. There is no metaphoric Holy Spirit either—another requirement for Christian fiction. It isn't even much Old Testament spirituality, though there is some sort of special book the reading of which will straighten out your life. But neither the source nor the content of the book is covered.
If you like this type of fantasy, you'll probably like this book
So, I'll give it two stars. The book is not poorly done. It is edited well (as far as I can tell). For this type of book, it actually may be written well. But I was very disappointed.