Christian fantasy book review: Dare, Book 1, The Blades of Acktar by Tricia Mingerink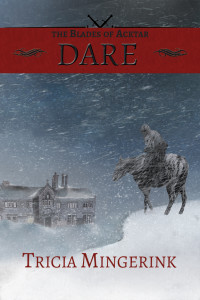 When Tricia told me her book was a YA Christian fantasy with similar themes to Jaye L. Knight's Ilyon Chronicles, I told her I wanted to review it. Even though the Ilyon Chronicles were not as good in my mind as her earlier Makilien Trilogy, they are still very good, nearing epic proportions.
So, it was with some anticipation that I started reading Dare last night. When I saw it was only 163 pages, I was a bit concerned. However, even though the length of the book does not allow for the type of world-building I like, this is a very good tale. There are many cultural and societal questions left unanswered, along with most of the history. The King of Acktar seems more like a Russian Mob leader than the leader of a large nation. Nevertheless, this smaller scale story has clout.
[yasr_overall_rating size="large"]
[yasr_visitor_multiset setid=0]
The King is trying to eliminate religion, especially those horrid Christians.
Yea, we've heard that a lot. But that's the main theme of this book, along with how will believers react when it gets really bad? The book is evangelical, using the KJV, but it's not preachy. It's slightly jarring to have straight Christianity in the midst of this obviously different world. But, Tricia pulls it off.
For a first book, this is quite impressive. I suspect we'll see some very good fantasy from this woman.
[yasr_visitor_votes size="large"]
Please follow and like us: