Interview with Annie Douglass Lima author of "The Collar and the Cavvarach"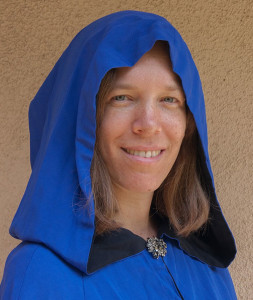 Today I have an interview with Annie from Taiwan. I really liked her new book, so I offered to do an interview to help out.
1. What can you tell us a little about your "real" life — family, job, church life. Does it give you inspiration for your writing? Does it get in the way of your writing, or are there times when you get help, from people or circumstances?
My husband and I live in Taiwan, where I teach 5th grade in Morrison Academy, a missionary school.  We attend a bilingual (Chinese/English) church and very much enjoy life here.  Though I love my job, I must admit I wish it left me with more time for writing.  In the evenings my brain is often so fried after a long day that I just can't get much done, so most of my writing happens on weekends.  But one thing I really enjoy is the fact that my students are at the right age (though at the younger end of the spectrum) to enjoy what I write.  I read one or two of my books aloud to my class every year, and their feedback helps me polish and improve them.  It's really helped me see what kinds of scenes and characters appeal to readers of that age.
2. What do you enjoy?
Besides writing, I enjoy reading (especially fantasy and science fiction) and scrapbooking.  Hiking and other outdoor adventures are high on my list as well as travel (especially internationally).
3. Who helps you create your books?
I do use beta readers, most of whom I've found through my online writing groups.  My grandparents are my best editors and proofreaders.  And my covers are made by Jack Lin, an artist who graduated from Morrison Academy.
4. Have you done anything writing-related, other than your books, which encouraged you?
I'm friends with a college professor here in Taiwan who has used my fantasy novel Prince of Alasia with her ESL classes the last few years.  I put together a series of creative PowerPoint presentations (available on my blog at http://bit.ly/PofAlasia) to explain some of the trickier vocabulary words in each chapter and have enjoyed hearing how her students have responded.  Several times, now, I've had the opportunity to come speak to her classes as a visiting author, and that's been really fun for me.  I've also held novel-planning workshops for middle- and high-school students, focused on putting together solid plots and creating well-rounded characters.  And once I presented a seminar about self-publishing in an international teaching conference in Thailand.  All of those opportunities have been really fun for me!
5. Tell us about your newest book.
Bensin, a teenage slave and martial artist, is desperate to see his little sister freed. But only victory in the Krillonian Empire's most prestigious tournament will allow him to secretly arrange for Ellie's escape. Dangerous people are closing in on her, however, and Bensin is running out of time. With his one hope fading quickly away, how can Bensin save Ellie from a life of slavery and abuse?
The story takes place in a world almost exactly like our own.  Although most aspects of the culture are just about what they are currently on Earth, a few sports are different, such as the martial art known as cavvara shil.  The main difference, however, is that slavery is legal there.   There are nearly as many slaves in the empire as free people, and they are easily identified by the steel collars they are required to wear locked around their necks.  As you can imagine, these collars make escape very difficult.  Slaves have few rights, and Bensin is desperate to get Ellie out of that life before she really has to suffer.
6. What is the "message" of your writing?
I hope The Collar and the Cavvarach will make readers think about the value of human life and perhaps take a second look at some of the practices we accept or choose to turn a blind eye to in our own culture. Legalized slavery sounds so impossibly wrong that it's easy to think we could never let it happen in this day and age, but how many other wrongs do we overlook just because it isn't convenient to do anything about them?
7. What's the worst trouble you ever had with getting a book written?
Well, I did struggle a lot with the research needed for The Collar and the Cavvarach.  The main character needed to be skilled in a challenging martial art, and I wanted it to be a combination of two or three different fighting styles, involving elements of unarmed combat as well as the use of a weapon.  It took a few false starts before I had a fighting style I liked.  At first I just pictured using a sword, but I wanted something a little less stereotypical.  The cavvarach, with its hook (as seen in the cover picture), ended up being just right for what I had in mind.  Combatants try to snag their opponent's hook to tug the weapon out of the other person's hand, which is one way to win a duel.  (They can also knock it away with their own cavvarach, or kick it away.)  Besides disarming an opponent, you can win by knocking them over and pinning their shoulders to the mat for five seconds.
Although it is imaginary, creating cavvara shil (and the necessary training and practice for it, as well as rules of the tournaments) took a LOT of research.  This was especially challenging because I am not an athlete myself, so it was all the more difficult to make sure this martial art was feasible and would make sense to readers who practice "real" martial arts.  I spent hours researching online and in books, as well as talking to athletes I know, and I've been told that the end result in the book is believable and realistic.  Whew!
David: You did an excellent job!
8. What's your next project?
I'm working on two more novels at the moment.  King of Malorn will be the next book in my Annals of Alasia fantasy series, and I'm hoping to have that published sometime this summer.  The other one is The Gladiator and the Guard, which takes place four years after the events of The Collar and the Cavvarach.  I drafted it last November (a NaNoWriMo project, like this one was), but it still needs a LOT of work.  I hope to have it ready for publication by about this time next year, but we'll see.
Click here to download The Collar and the Cavvarach in Kindle format.
Click here to download The Collar and the Cavvarach for Nook or in other digital formats.
Author Contact Info:
Email: AnnieDouglassLima@gmail.com
Blog: http://anniedouglasslima.blogspot.com
Facebook: https://www.facebook.com/AnnieDouglassLimaAuthor
Twitter: https://twitter.com/princeofalasia
Goodreads: http://bit.ly/ADLimaOnGoodreads
Google+: http://bit.ly/ADLimaOnGooglePlus
Amazon Author Page: http://bit.ly/AnnieDouglassLimaOnAmazon
Please follow and like us: