Christian Urban Fantasy Review: Sameerah Rook and the Heirs of 'Ayin by Elspeth Allen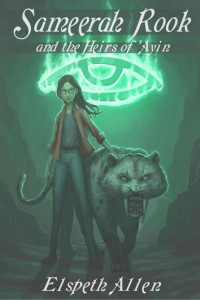 This is a fun read for teens. It will work for mid-school also, if you read it first. And you will enjoy that read. Sameerah Rook and the Heirs of 'Ayin takes a simple speculation: there's a family of man who is called and enabled to see and battle in the warfare between angels and demons, and turns it into a YA/midschool read that will get young minds thinking.
[yasr_overall_rating size="large"]
This is full-blown contemporary spiritual warfare
The blurb:
Sameerah Rook's life is falling apart and that's _before_ she starts hearing things: Lions in the night, dolphins in the city reservoir, voices that tell people what to do. She thinks she's going crazy until she discovers her eccentric English teacher can hear them too. The only problem? She already knows he's crazy!

After Sameerah discovers she belongs to an ancient race who can all perceive the spiritual realm, she finds herself navigating the pitfalls of middle school amidst her growing awareness of angelic warfare. Through embarrassment and triumph, beauty and heartache, Sameerah discovers a new way of seeing even the physical world she thought she knew.
This is full-out warfare! I do not want to spoil the book, but it gives an intriguing look at the constant battle all around us between the enemy and the angels of the Lord. I enjoyed it immensely.
Spiritually, I'm giving it 4.5 stars.
Though it's not technically evangelical or full-gospel, the reality of the spiritual warfare and the results of conversion are honestly explored. God talks to his people. However, I really can't give it a five because almost all the communication is with angels and demons as opposed to the direct dialog we are expected to experience with Jesus and the Holy Spirit.
On the other hand, the spiritual warfare is quite realistic once you get over the jolt of seeing it. The world-building is a bit thin, and the characters are not fully fleshed out (it has that young youth feel about it). However, I can't really fault the reality Elspeth gives us and the basic premise was bought quite early for me. As a result, this was a read that intrigued, entertained, and edified me. That's a rare combination.
[yasr_visitor_multiset setid=0]