Christian Spiritual Warfare Legal Thriller: Trial & Tribulations by Rachel Dylan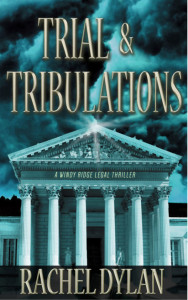 I've gotten tired of thrillers, and (if I read them) I only read Christian fiction. Rachel's book meets the criteria and is great fun. I really enjoyed this realistic look at the spiritual warfare between two companies who are openly sold out to the Creep.
[yasr_overall_rating size="large"]
Realistically done!
This is not heavy-handed, slap-you-in-the-face, Bible-thumping fiction. It's a legal thriller which depicts two lawyers, one a believer and the other not, caught in a legal battle between two New Age corporate powerhouses. The spiritual warfare is realistically done and you will find yourself caught up in the battle and genuinely concerned for the welfare of the characters.
It's difficult to pull off a truly Christian thriller because we all know the Lord is the powerhouse here and the enemy can only fool itself into believing they have a chance of succeeding. However, the reality is that in 21st century America, the enemy wins many battles because the believers allow it through inaction. There's plenty of action is this tale!
A Windy Ridge Legal Thriller #1

High-powered attorney Olivia Murray faces the biggest test of her career when she is assigned to represent Astral Tech, a New Age tech company, in a lawsuit filed by its biggest competitor. While Olivia is accustomed to hard fights in the courtroom, she arrives in Windy Ridge and discovers there is much more to this case than the legal claims—forces of darkness are at work.

Windy Ridge quickly turns from quiet Chicago suburb to spiritual battleground, and Olivia must rely on her faith to defend against legal and spiritual attacks. Although they are enemies in the courtroom, Olivia finds a friend and unlikely ally in opposing counsel, Grant Baxter. Once a skeptic about faith, he ultimately comes to her aid when she needs it most.

The battle between evil forces heats up in and out of the courtroom, pushing Olivia to the breaking point. Will she be able to help good triumph over evil, or will the town of Windy Ridge be torn apart?
Spiritually, it's a solid 4-stars
It's evangelical, plus accurately done spiritual warfare. This is realistic Christian living in the midst of spiritual battle. There's no escaping the Christian aspects of the book, but it's not shove-it-in-your-face preachy. The Christianity is clearly presented and that's rare for what appears to be a tradepub book.
It's entertaining and edifying. Again, this is a rare combination.
This is a pre-release review. Rachel gave me a copy to review with no strings. I really enjoyed the book. It's scheduled to be released November 17, 2015. I wouldn't hesitate to pre-order this one.
There's an excerpt from book #2 in the series, plus excerpts from two other books she's written. They may slide a bit more toward romance, but this is a very good writer with professionally produced books. Here's a link to Rachel's Website for more information.
[yasr_visitor_multiset setid=0]
Please follow and like us: