Mid-school fantasy prequel review: Flashes of Ember by Vicki V. Lucas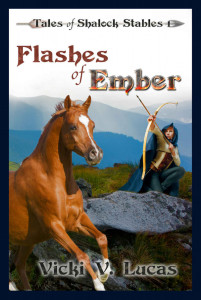 It looks like this might be a prequel series. That would be good. Mid-school tales are almost always a bit thin, and I understand why. But, this would make a nice entrance to a YA fantasy series. I hope Vicki goes there soon. The talent and vision are certainly there.
[yasr_overall_rating size="large"]
The blurb is:
"Don't go near the horses, and no hiking in the Razors."

Twelve year old Geona drank in the beautiful sight of the moonlight shining on the horses around the large barn.
Shalock Stables. Home of the greatest racing horses in all of Eltiria.

And Papa now worked here! They lived just steps away from the biggest barn of the stables. It was perfect!

Only it wasn't. She wasn't allowed to help Papa with the horses. She couldn't even ride. Tristan, her older brother, wasn't permitted into the Razors, the massive mountains filled with peril and adventure.

When a beautiful chestnut filly is badly beaten, Geona has to do something. Her parents just say that Adoyni has a plan, but she can't wait for Him any longer.

Geona risks her life to save the filly, but the dangers are greater than she had imagined. Is the filly lost forever, or can she save them from disaster?
Mid-school fantasy done well
My hope is that a YA fantasy is coming with solid spiritual truth. Her characters are well done, complex for mid-school, and realistically presented.
The world-building is on a mid-school level, but as an adult I hoped for more details. The story is simple but tightly done with twists and tension.
Spiritual level is vague, 2.5 stars
There's a god and his son, but they have no real interaction with story. That's sad, but there's nothing in error. The family of good guys is basically as righteous as possible given the sketchily presented spiritual truth.
I have no problem recommending this book for your children. I"d say it is targeted at 9-13 years old, but young teenagers will like it also (as will you).
[yasr_visitor_multiset setid=0]
Please follow and like us: