Daniel and the Sun Sword blog tour, day 3: Author Interview: Nathan Lumbatis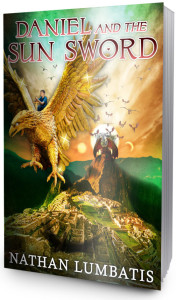 Today, I am posting an author interview with the man who wrote Daniel and the Sun Sword. The book is a fun ride—as is the interview.
Who's Nathan Lumbatis?
Why do you write? Is it something you've always done? Or wanted to do?
I write because I love fiction. I've always learned more about life through fiction than non-fiction, really. It's just the way God made my brain.
I've also been driven to write because, for many years now, my goal has been to work from home so I can be with my family more. Here's hoping I one day get to that point with my sales! So, buy my book, everyone.  If you don't, you're keeping me from being with my family. You should be ashamed of yourself.
How did the book come to life?
I've been reading mythology all my life, but only recently discovered how much I love Rick Riordan's work. So I began thinking, if he can bring mythology into the modern world in a secular sense, why can't I do that from a Biblical perspective? So, viola! Daniel and the Sun Sword.
It's not based on mythology like Riordan's books are, but different mythologies will be the backdrop for each book. The second book in the series takes place in India, for example, and so there will be elements of Hindu mythology that the characters interact with.
Why will readers enjoy the book?
Ancient deities, monsters, teleportation, ruins hidden in the cloudy mountains, three kids charged with a deadly quest, picking a fight with pure evil—What's not to like?
Did you learn anything from writing the book?
Yes, I did. I tend to think things out by talking or writing. (That's definitely gotten me into trouble sometimes. But it's also kind of fun, because then sometimes I say or write things that surprise myself.) I'd say I had some insight into how sin, specifically self-centeredness, twists our memories so that, even when we've seen indisputable truth about God, it's possible for us to turn away from Him. This was helpful when writing about the Enemy's rebellion. I've always struggled with understanding that. How could the Enemy rebel against God when he would have experienced His omnipotence first-hand?  But the rebellion (possibly) would have been a secondary consequence of reality literally being warped by self-love. So much so that the memory, or understanding of, God's character and power was lost to the Enemy. In his world of Self, he would literally begin to view God as the usurper, not himself. Isn't that how we often view God? The intruder into our realities? Maybe his deception of Eve wasn't just a lie that he spun to trick her, but was literally a lie that he believed himself?
Please give me some quick insight into the book
Describe your main character in 3 words and in one sentence:
1) Desperate (2) for (3) acceptance. I'm sure you were looking for three adjectives, but too bad.
Daniel doesn't trust anyone but himself, but he soon learns that friendship is more important to him than he realizes.
Two or fewer sentences about something unique about the book:
That's hard. Peruvian ruins and myths are woven into the storyline, and a couple of the main characters (and a mountain) throw up a few times throughout the book. So that's awesome.
Three adjectives that describe the book:
Fast-paced
Sarcastic
Adventurous
Who inspires you as a writer?
Tolkien, C.S. Lewis, Lloyd Alexander, Rick Riordan, J.K. Rowling. Does any writer of fantasy not mention these five?
Where do you get your ideas?
I get ideas when I'm reading, hiking, running, praying, showering, and changing diapers. Not my diapers, my children's. Okay, so obviously, they just kind of come whenever. I do have a notebook I carry around with me whenever I'm not around a computer. That way, I can jot things down before I forget them. Because I will forget them.
Have I written my entire life:
I have not always considered myself a writer, but I did start writing quite frequently when I was 14-years-old. I don't think I really considered myself a writer until graduate school, though. That's when I began writing with the intent of getting published. I think it was J.K Rowling that inspired me to make that jump.
Where do you want to go with your writing career? Where do you see your writing career in five years?
I'd love to keep writing. Maybe churn out a book each year. In five years I imagine I'll be wrapping up the Sons and Daughters series and beginning work on one of the next series I have in store.
What is my work in progress?
I am currently working on the second book in the Sons and Daughters series, which is tentatively titled Daniel and the Triune Shield. It follows Daniel and Ben on the quest to seek the next Weapon of Power.
Self-publishing versus traditional:
Full disclosure: I was this close (holds up fingers really close together) to getting Daniel and the Sun Sword self-published. But, here are my thoughts:
There's a reason why traditional publishers exist. They know about marketing, the publication process, illustrators, retailers, and (usually) what will sell and what won't, and they have networks to get all these things done. Of course, there are exceptions to this, but in general I'd say it's true.  And they assume financial risk, which is a huge plus.
Self-publishing requires the author to pretty much do all that for himself/herself, or  at least shoulder the entire cost of someone else doing it for them. Do you have the freedom to do whatever you want with your book? Yeah. But that's not always the best thing, especially if you're a beginning author.
That being said, if you can't find someone who wants your book, self-publish it and get some experience! But I do think it's absolutely key to get someone to do a professional edit.
If someone told you that your story was not written well and was unbelievable, what would your response be? Would you continue to write?
Hasn't every writer been told that? I know I have, and it was true. My response was to learn to write better and to fix the parts of the story that didn't work. Having a thick skin is essential for writers. You're going to get critiqued, but it makes you better.
What are your strengths as a writer:
It's so hard to narrow it down, because my writing is perfect. (I hope you read that with as obnoxious a tone as possible). I'm just kidding, of course. This is hard for me to answer, because I'm a new author. Oh, wait, I have one that won't make me sound pompous. My superpower as a writer is to take criticism and rejection on the chin and never give up! For real, though. The second novel I ever attempted was re-written (entirely) 7 times over the course of 5 or 6 years, and rejected from agents and publishers probably 100 times. No joke. I finally took a break from it and wrote Daniel and the Sun Sword, and I'm glad I did.
If there are any aspiring authors reading this, take my advice. If you are having trouble getting your first book published, take a break and write something different. Once you get published, you can always go back to your first novel and re-work it. That's what I plan to do.
Where did you grow up? How did your hometown (or other places you have lived) inspire your writing?
I grew up in Newville, AL, which is surrounded by the well-known towns of Podunk, Boondocks, and The Sticks.
Growing up in the country absolutely inspired my writing. When you're walking through old, spooky forests and you find an abandoned shack overtaken by nature, it's hard to not let your mind start making up stories. Who lived there? What happened in their lives? Are they still there?! Creepy. I probably spent thousands of hours hiking through the woods, exploring placed that had evidently been untouched for decades. It was easy for fantasy stories to pop into my head.
Which books have influenced your life?
I would say:
C.S. Lewis's Space Trilogy; especially Perelandra. That book changed the way I viewed the Fall of man, God's love, redemption, and every particle of the universe.
A Praying Life, by Paul Miller; best book on prayer, hands down.
The Lord of the Rings; they shaped the way I view fantasy.
Who is your favorite character? Why?
Gandalf:
He always does the right thing.
He's not out for personal power or glory, those things just don't interest him.
He's willing to sacrifice himself over and over again to do what's right.
He never loses sight of his goal, even over something like 3,000 years of being in Middle Earth.
He kicks butt and takes names.
The five-day blog tour